How Was Your Summer?
By Jacob Solomon on 09/01/2011 @ 10:56 AM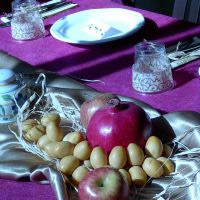 "How was your summer?" We hear the question from friends and colleagues after vacation travels and summer schedules begin gradually to give way to the more structured time that comes with autumn. But there is that place in time, between the waning days of summer and the High Holidays, when we all seem to stop and take stock . . . on where we've been and – more seriously – on where we're going.
For us as a community and as a people, there's a lot of data to plug into the equation: continued attacks on Israel, both actual terror and in the realm of public opinion; an unsettling and harshly divisive political climate domestically; and a worrisome economic environment . . . just to name a few.
Indeed, as a people and as individuals, this is the time of year when we're called upon to conduct an internal audit – cheshbon ha-nefesh, an "accounting of the soul" – when we're asked to use a steady eye to look at where we are and how we are fairing against our own goals and against the standards set by our parents and our tradition. Are we – collectively and individually – living as a Kingdom of Priests and a Holy Nation?
For us at Federation, we approach this time of year with a combination of great excitement and enthusiasm, on the one hand, and deep humility and gratitude, on the other. Our volunteer leadership has been intensely engaged with their professional partners over the summer planning for the coming year: recruiting scores of volunteers to assume positions of importance in governance and financial resource development for our community; recruiting heavily for Miami Mega Mission 2012 (we're already over 630 strong . . . are you coming with us??); and developing plans for each and every arena of communal activity, from Israel advocacy to fundraising events to investment strategies for The Foundation.
And yet, even as we look forward with excitement and anticipation to the new year, filled with a sense of accomplishment for our past achievements, we also recognize how much more there is to do and how much we depend upon the good will, the generosity and the innate impulse of the Jewish people to continue to give, to heal and to do "tikkun olam." There is never a single day in which I don't give thanks to G-d for making me part of a people who cares so deeply and who acts so generously to make things better, to "perfect" our broken world. What a blessing it is to be part of that noble enterprise!
As we go forward through the holidays and through the year, I plan to share thoughts and observations with you about how we're doing as a Jewish community and where we're heading. Please let me (and the rest of the blogosphere) know how you feel and what issues are of greatest concern to you. Our new website was designed to maximize opportunities for interaction and on-line engagement. Please be a part of the conversation!
In closing, let me wish you and all of those who are dear to you a New Year filled with good health, purpose and peace. May we all be blessed with a Shanah Tovah u'Metukah, a happy and sweet New Year.