Pardes Channa-Karkur Dance Troupe Performs at Shimon Peres' Sukkot Event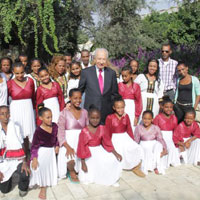 Selam, a multi-generational Ethiopian-Israeli dance troupe from Pardes Channa-Karkur, recently performed at the home of Israeli President Shimon Peres as part of the Open Sukkah event held each year at the President's home in Jerusalem.
Click here to watch a video of the performance.
The dance troupe is part of the Greater Miami Jewish Federation's ongoing partnership with the Ethiopian-Israeli community in Pardes Channa-Karkur, about 30 miles south of Haifa.
"They are truly the stars that shine for the work that all the professional and volunteer staff of Federation does," said Sheree Savar, the chair of the Ethiopian-Israeli Initiative of the Greater Miami Jewish Federation. "It makes it all worthwhile to see these people, who have overcome such difficulties, become honored citizens of Israel. It's so special for all of us and it shows that given the opportunity, they can do anything."
Selam, which means peace in Amharic, comprises of six women, four men and 12 girls, ages 9 to 16. Many of the dancers were born in Ethiopia and said they couldn't believe how far they had come.
"One of the women, Nofar Maharat, told me that she could not believe a person born in a home with a dirt floor in Ethiopia was appearing at the home of the President of Israel," said Rena Genn, the director of Federation's Israel office.
Approached by the President's staff about a month before the performance, the dancers and their coaches, Meeka Yari and Yael Elyasheev, had their work cut out for them. However, with President Peres, the Minister of Agriculture and the Minister of Science sitting just steps from them in the sukkah, their two performances went off without a hitch. Noach Mentosnant, the Director of Federation's Ethopian Initiative in Pardes Channa-Karkur, was also on hand every step of the way, seeing that event was handled perfectly.
Federation is involved in a partnership with the 2,000 Ethiopian-Israeli residents of Pardes Channa-Karkur, a community of 34,000 located in central Israel. Difficulty adapting to the culture has resulted in special issues for many Ethiopian-Israelis, and Federation is involved in several projects to enhance the well-being and success of the community's youngsters.