Free Jewish Books for Children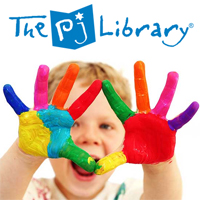 Thousands of Miami children can enjoy bedtime stories about Jewish values and traditions, thanks to the Greater Miami Jewish Federation's early childhood program called The PJ Library.
Named after the bedtime garb, The PJ Library aims to help families teach their children the tenets of Judaism through children's books.
Families who subscribe to The PJ Library open their mailboxes each month to find a brand-new book featuring a Jewish topic. The program is free for Miami-Dade County children up to the age of eight and allows youngsters to build their own Jewish library at home. Register here.
Miami's PJ Library also hosts events throughout the year that offer young children and their parents a chance to explore their Jewish roots together. All of these events are free and open to the public.
The PJ Library is part of a national program founded in 2005 by the Harold Grinspoon Foundation. Miami's PJ Library chapter is funded by the Blank Family Foundation, started by one of Federation's founders, Sam Blank. It is being operated in partnership with a wide range of early childhood centers, Jewish community centers, synagogues and agencies who share the program's goal to reach as many children as possible.

Read our PJ Library FAQ section.

To search for upcoming PJ Library events, visit the Community Calendar.

More news and events for young families may be found at The Community Post. Check out our online newspaper today.
Upcoming Events
Sunday, April 13 in Coral Gables at 10:30 a.m.
PJ Library Story Time at Books & Books
Celebrate Passover with Rabbi Judith Siegal!
Join Temple Judea and the Margaux Early Childhood School at Books & Books for a children's story and activity about Passover. Books & Books in Coral Gables is located at 265 Aragon Avenue. For more information, please call 305.442.4408.

Monday and Tuesday, April 14 & 15 at 8:00 p.m.
Community Passover Seders
Join the Family Shul for a traditional seder with meaningful Kabalistic insights and delicious food in a warm environment! The Family Shul is located at 2601 NE 211 Terrace, North Miami Beach. For more information, please call 305.770.1919 or visit www.TheFamilyShul.com.

Thursday, April 24 at 7:00 p.m.
Rick Recht Live in Concert at Temple Sinai
Do not miss the opportunity to see this South Florida performance of the ultimate Jewish rock star! Rick Recht is the top-touring musician in Jewish music in the U.S. and is widely recognized for his appeal to youth and family audiences. Click here to purchase your tickets. Temple Sinai is located at 18801 NE 22 Avenue, North Miami Beach. For more information, please contact our temple office at 305.932.9010 or templesinai@tsnd.org.


Friday, April 25 at 6:15 p.m.
Shabbat Alive! with Rick Recht at Temple Sinai
Temple Sinai invites you to bring your friends and family to a spiritual and inspirational musical Shabbat service with Rick Recht, the top-touring artist in Jewish music and the national music spokesman for PJ Library. This is a Shabbat celebration that includes interactive prayer and live inspiring music for families and children. There will be an oneg after the service with ice cream and cookies. This event is free and open to the community. Temple Sinai is located at 18801 NE 22 Avenue, North Miami Beach. For more information, please contact our temple office at 305.932.9010 or templesinai@tsnd.org.

Friday, April 25 at 7:00 p.m.
Shabbat Pasión at Beth David Congregation
A unique type of Kabbalat Shabbat service, Shabbat Pasión, is a collaboration fusing traditional and contemporary Jewish music from the Friday evening service with the backdrop of Latin and world musical textures. Services are conducted by Cantor Julie Jacobs along with a band of amazing local musicians. All are welcome. For more information, please call 305.854.3911, ext. 201. Beth David Congregation is located 2625 SW 3 Avenue, Miami.




Click here to learn more about The PJ Library or contact us at PJLibrary@JewishMiami.org or 786.866.8572.
Subscribe to our e-newsletter.
View photos and videos from past events.
Visit our online group.