Hereditary Cancer: Jewish Families May Be at Risk
Panel With NCJW Representatives
Tuesday, November 13, 2018 6:30 PM at Beth David Congregation
RSVP
Decoding November Ballot
Tuesday, October 23, 2018 6:30 PM at Beth David Congregation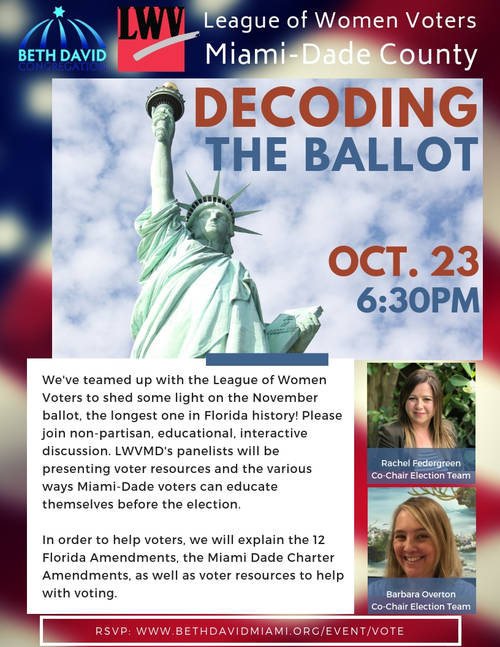 RSVP
Is Media coverage of Israel biased?
A Middle Easterner's Perspective
October 31, 7pm at Beth David Congregation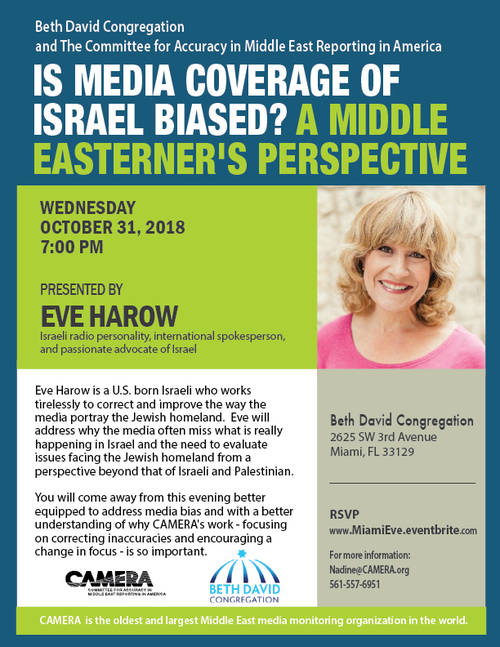 Join Aaron Kula's critically acclaimed Klezmer Company Jazz Orchestra (KCJO) for their 22nd season in this unique holiday production featuring vocalist Rabbi Julie Jacobs from Beth David Congregation.
Enjoy a rousing mix of jazzy Chazzanut melodies and congregational tunes that swing. KCJO will play familiar High Holiday tunes with a twist that evokes sounds of American blues, motown, bop, swing and inspirational solos that will touch your soul.
The Concert
Israeli singing duo Yonina has become an international Internet sensation sharing videos of themselves singing from their car and living room couch. The duo's immense popularity led them to record an album and sell out concerts in both Israel and the United States.
Known for their positive vibe and soft harmonies, Yonina's concert in Miami will feature favorite covers from their weekly online videos along with songs from their debut album that will leave you blissed out! Food truck dinner for sale at 5:30pm Childcare available!
Brought to you by: Beth David Congregation, Alper JCC, and Adam's Rib & Stuff Food Truck
Limited number Donor level premium seats: $50 General admission adults: $20 General admission children or childcare (0 – 10): $10 Day of event, tickets purchased at the door (if available): $25 Childcare at the door: $15
Click Here To Purchase Tickets
Listen to Yonina and fall in love!
Beth David Congregation and Comic Cure present:
Purim Stand-up Comedy Night
A night of comedy with Dana Eagle from NBC's "Last Comic Standing" on Saturday, March 11 at 7PM. $18 per person. Following Megillah reading at 6PM. First come, first serve seating. Childcare will be provided.
Event is subject to change and cancellation. Refunds will not be issued unless show is cancelled by venue or producer
Tickets are available online
See Dana perform