We're sorry but we couldn't find that post.
Wednesday, December 13, 6:30 PM-7:30 PM
A panel discussion with Hillel Directors, StandwithUS, and the Center for the Advancement of Jewish Education (CAJE). The Panel will address the current climate on college campuses, talk about how the war in Israel impacted student life and address the change post-October 7th. Yehuda Michael, Senior Community Shaliach (Emissary), Greater Miami Jewish Federation, will moderate.
Panelists: Jess Green, Senior Campus Southeast Regional Manager, StandWithUs; Briana Schwarz, Executive Director at the University of Miami Hillel; Jon Warech, Executive Director, Hillel at Florida International University; Carly A. Orshan, Director of CAJE Teen Department and March of the Living
Miami Beach JCC, 4221 Pine Tree Drive, Miami Beach
The Greater Miami Jewish Federation is accepting bids for a new access control system.
Please click here to submit your interest in this process.
Watch JBS on Comcast X-1 Box Ch 1684, Atlantic Broadband 168, Hotwire Ch 269, DirecTV Ch 388, Blue Stream Ch 110, streamed on Roku under "educational", Apple TV, Amazon Fire TV and jbstv.org. For a complete and timely schedule and other television providers, go to www.jbstv.org
PROGRAMS
Defending Israel with David Harris: Ronald D. Liebowitz
A profile of courage in the post-Oct. 7 world of higher education, Brandeis University President Ron Liebowitz joins JBS Strategic Analyst David Harris for a timely discussion. Sunday - 8:00pm Monday - 1:00am and 2:00pm Tuesday - 10:00am Wednesday - 8:30pm Thursday - 11:30am Friday - 7:30am
Defending Israel with David Harris: Shahar Azani
**JBS strategic analyst David Harris sits with Shahar Azani for discussion. Wednesday - 8:00pm Thursday - 1:00am & 11:00am Friday - 4:30am
Saturday - 8:30pm**
Dispatches from Israel
Join Rabbi Ammiel Hirsch as he learns about the life-saving work of Soroka Medical Center, visits a new organization that's feeding the IDF, sits with survivors, and more on his visit to Israel. Programs of the Stephen Wise Free Synagogue in New York City. Monday - 7:00pm Tuesday - 1:30am and 11:30am Wednesday - 5:30pm Thursday - 10:35am
JEWISH BOOK MONTH
Hampton Authors: Eric Alterman (We Are Not One) Author Eric Alterman discusses We Are Not One: A History of America's Fight Over Israel, his book that traces the Zionist debate from its nineteenth-century origins and reveals how consensus on Israel and Palestine emerged and why it's fracturing now Monday - 7:30pm Tuesday - 1:00am and 10:30am Wednesday - 5:30am & 10:30pm Saturday - 4:30pm
In the Spotlight: Samuel G. Freedman
Abigail Pogrebin speaks with Samuel G. Freedman about Into the Bright Sunshine: Young Hubert Humphrey and the Fight for Civil Rights, his book that celebrates one of the overlooked landmarks of civil rights history through an exploration of the life and enduring legacy of Humphrey. Monday - 8:00pm Tuesday - 2:00am and 11:00am Wednesday - 5:00am Thursday - 2:00pm Friday - 2:30am and Saturday - 4:00pm
Solidarity With Israel (MirYam Institute):
Bret Stephens New York Times Opinion Columnist Bret Stephens sits with the MirYam Institute's Benjamin Anthony to discuss the alarming rise of antisemitism, not only on American campuses but also within elected offices in the United States.
Tuesday - 8:00pm Wednesday – 2:00am & 11:00am Thursday - 5:00am Friday - 2:00pm Saturday - 9:00pm
Doron Libshtein
Doron Libshtein, who tragically lost four family members on October 7th, sits with the MirYam Institute's Benjamin Anthony to share poignant memories of his brother Ofir and the unwavering resilience of the House of Israel. Tuesday - 8:30pm Wednesday - 2:30am & 11:30am Thursday - 5:30am Friday - 2:30pm Saturday - 9:30pm
Global Conference for Israel – Jewish National Fund: Opening Plenary
Encores of the opening plenary from the Jewish National Fund-USA's Global Conference for Israel, from Denver Colorado, featuring Israel's Ambassador to the UN, Gilad Erdan, Colorado Governor Jared Polis and others. Wednesday - 3:00pm Thursday - 1:30am
Yonatan Razel in Concert
American-Israeli singer, writer, composer, and conductor, Yonatan Razel performs in concert at The Hampton Synagogue (Westhampton Beach, NY). Thursday - 7:30pm Friday - 1:00am & 10:00am Saturday - 7:00pm
Srugim: "A New Song"
Things get complicated between Amir and his ex-wife, Reut refuses to take no for an answer from a reluctant Torah reading tutor, and Nati reconnects with an old flame, causing Yifat to rethink her feelings. Wednesday - 5:00pm Thursday - 10:00pm Friday - 4:00am Saturday - 10:00pm
NEWS & ANALYSIS Weeknights at 6:00 and 6:30pm
ILTV & Daily News Update
ILTV reports from Israel followed by JBS Daily News with Teisha Bader Weeknights at 6:00pm
Good Week Israel
Positive stories from Israel that display heroism, unity and support Mondays at 6:30pm
Insider
ILTV reports and interviews Tuesdays at 6:30pm
Thinking Out Loud
Micah Halpern dives deep into a timely topic Wednesdays at 6:30pm
In the News (Israel at War) JBS hosts Shahar Azani or Teisha Bader as they are joined by guests for in-depth discussion on topics of the day Thursdays 6:30pm
On L'Chayim
Classic conversations with Mark S. Golub z"l, this week in honor of the struggle for Soviet Jewry
Masha Merkulova
Russian-born Masha Merkulova describes how she didn't know she was a Jew until she was 16, and explains her passion for educating American teens about Zionism so they go to college as proud Zionists. Monday - 9:00pm Tuesday - 12:00am & 3:00pm
Anat Zalmanson-Kuznetzov
Anat Zalmanson-Kuznetzov, the daughter of Soviet Refusenik Edward Kunetsov, describes her documentary film "Operation Wedding" which tells the story of her father's helping to plot the 1970 failed hijacking of a Soviet plane which led to 15 years in prison. Tuesday - 9:00pm Wednesday - 12:00am & 3:00pm
Natan Sharansky
Soviet refusnik and dissident, Israeli political leader and human rights activist, Natan Sharansky, details his life in the former Soviet Union as described in his book Never Alone. Wednesday - 9:00am
Rabbi Aryeh Katzin Part 1 - Becoming Jewish in the FSU
Rabbi Aryeh Katzin, Exec. Dir. Of RAJE (Russian American Jewish Experience), describes how we became one of the early leaders of the Jewish Refusnik Movement in the Moscow and his experiences with Yosef Begun and Yulie Edelstein. Wednesday - 9:00pm Thursday - 12:00am & 3:00pm
Rabbi Aryeh Katzin Part 2 - Hidden Jews in the FSU
Rabbi Aryeh Katzin, Exec. Dir. of Russian-American Jewish Experience (RAJE), describes how the history of the Shoah was hidden from the Jews of the Soviet Union and how he escaped Thursday - 9:00pm Friday - 12:00am & 3:00pm
__________________________________________ Celebrating Chanukah
Light the Menorah with JBS First Night (Thursday) - 5:30pm and 11:30pm Second Night (Friday) - 5:30pm and Saturday 1:00am Third Night (Saturday) - 5:30pm and 10:30pm Fourth Night (Sunday) -
JEWISH STUDIES
Talmud Study with Rabbi Mordechai Becher Lessons of the week begin every Sunday at 9am
Chanukah The Talmud's description of Chanukah, and the different theories for why candles are lit for eight nights are explored in Rabbi Mordechai Becher's special holiday lesson Today (Sunday) - 9:00am Monday - 4:30am Tuesday - 9:00am & 5:00pm
Jewish Heroism
Rabbi Mordechai Becher, Senior Lecturer for the Gateways Organization and the author of Gateways To Judaism uses biblical texts and rabbinic commentary to explore the notion of "heroism" in the Jewish Tradition. Today (Sunday) - 9:30am Monday - 4:00am Tuesday - 9:30am & 5:30pm
From the Aleph Bet
Mark S. Golub z"l hosts this original series designed for anyone of any age to learn to read and understand Hebrew. Download Lessons and Worksheets free on the JBS website
Lesson 12
Learn three new Hebrew letters Zion, Tet and Vet Monday - 9:40am Thursday - 10:00am
Jewish 101: Chanukah
For the holiday of Chanukah, Rabbi Mark S. Golub discusses the history of the Maccabean triumph over the Syrians in Jerusalem and the adult lessons drawn from the Festival, which have shaped American values regarding ethnic identity. Sunday - 10:00am Monday - 5:00am Thursday - 9:00am Friday -1:00pm
Synagogue Services for Shabbat
FRIDAY EVENING SHABBAT SERVICES
REFORM: CENTRAL SYNAGOGUE Closed Captioned 6:00pm, 11:30pm & 2:00am
ORTHODOX: HAMPTON SYNAGOGUE With Hebrew, transliteration and English subtitles 7:30pm & 10:30pm
SATURDAY MORNING SHABBAT SERVICES
REFORM: CENTRAL SYNAGOGUE Closed Captioned 9:30am & 1:00pm
ORTHODOX: HAMPTON SYNAGOGUE With Hebrew, transliteration and English subtitles 11:00am & 2:30pm
Edith Samers Vice President 203.536.6914 (cell phone) JBS Jewish Broadcasting Service, a 501c3 fulltime television channel Website: jbstv.org
Tuesday, December 12, 1-2:30 PM
Osher Lifelong Learning Institute at Florida International University
This lecture with Leah Polin will unearth the Caribbean's ancient Jewish legacy on a picturesque 36-square-mile island where Jews once thrived, comprising a remarkable 25 percent of its population. Witness the island's compassionate spirit, welcoming Jewish refugees escaping Europe in 1938. Polin's captivating lecture will delve into the beauty and resilience of this extraordinary Caribbean tale.
Jewish Museum of Florida, 301 Washington Avenue, Miami Beach
For more information, visit olli.fiu.edu of call 305.919.5900.
A musical experience of spoken word, music and song
Tuesday, December 12 at 7 PM
This 75-minute performance, directed by Regie Gibson and Guy Mendilow, takes you through a series of chapters, each unfolding real-world stories. Experience tales from WWII Hungary to modern-day America, an evocative musical score that ranges from American Blues to Ladino cantigas. This moving, multifaceted performance connects audiences with diverse histories and perspectives, inviting you to explore the complexities and joys of human connections and our shared humanity.
Temple Moses Sephardic Congregation of Florida, 1200 Normandy Dr, Miami Beach
This program was made possible by a generous grant from JCCs of North America "Making Music Happen" and Mollie Zweig Foundation.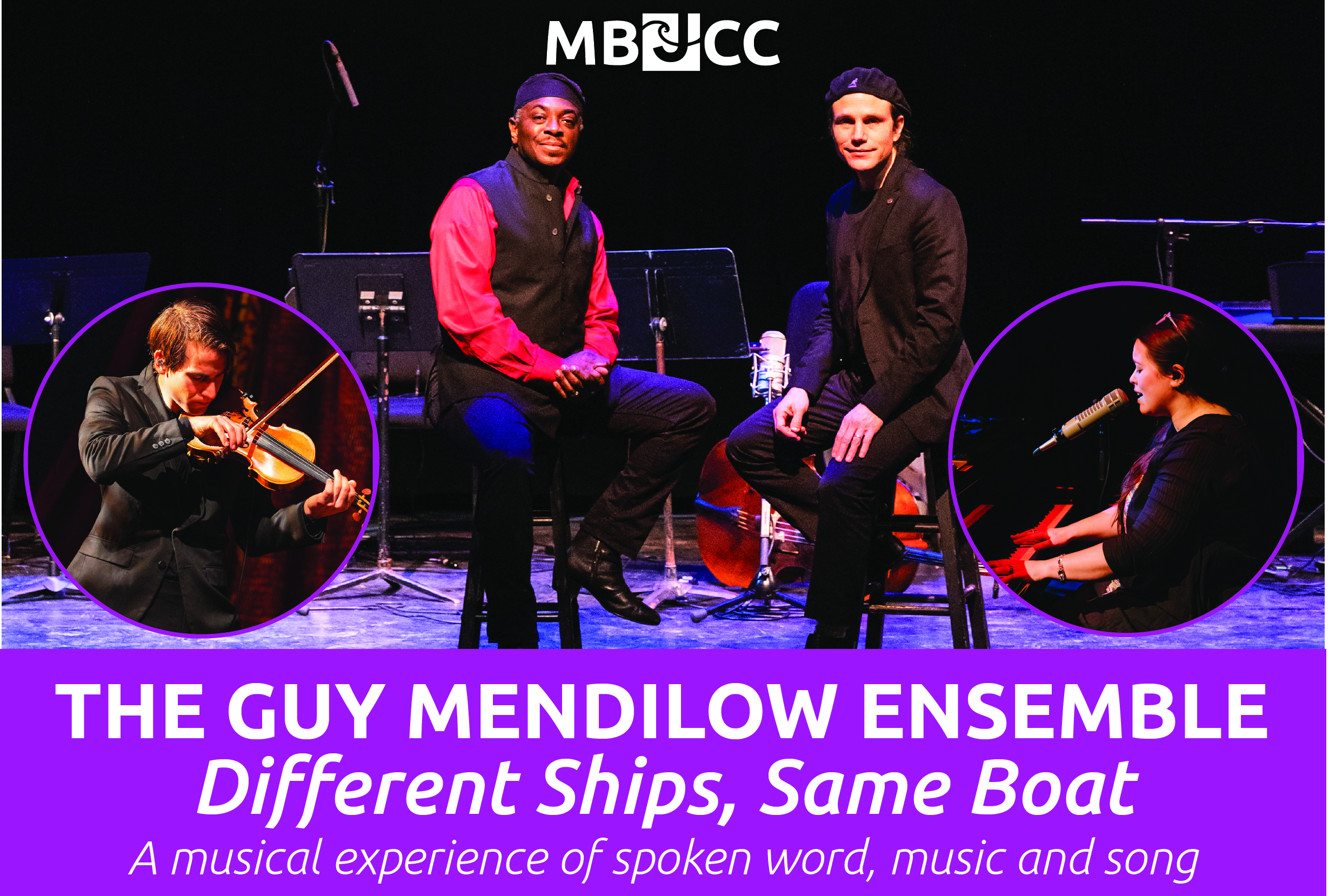 Your generous donation will bring joy to so many of Israel's children.
Join Chaiyanu's (Chai Lifeline's Israel division) Annual Toy Drive, supporting those facing cancer and the impact of the war in Israel. All gifts will be hand-delivered over Chanukah. If the specific gift you selected is no longer available, our toy concierge will select an appropriate alternative for you to be delivered.
CLICK HERE FOR INFORMATION AND TO DONATE TODAY!
https://www.charidy.com/chaiyanu
Tuesday, December 19 and Tuesday, January 2 - 8:30 AM- 2:30 PM
Attention new and uninsured Israeli families in our community: Thanks to the generosity of the UM Miller School of Medicine, your child may receive - a free of charge! - a complete physical evaluation and vaccination.This service will be provided only to children who came from Israel and have no insurance.
The Mobile Unit will be located at Beth Torah Benny Rok Campus, 20350 NE 26 Avenue, Aventura.
CLICK HERE FOR INFORMATION AND TO BOOK AN APPOINTMENT
You may also book an appointment by calling 305-243-6407 or visiting www.pediatricmobileclinic.com.
Wednesday, December 6, 8-9:30 PM - Live on Zoom
Join BeWell Miami's upcoming webinar, in partnership with The Wellness Institute, titled The Spiritual Child, with best-selling author and psychologist Dr. Lisa Miller. With all the uncertainty and negativity in the world, giving children tools to support their mental well-being is more important than ever. Recent studies show that cultivating a child's spirituality is a key protective factor for their mental health.
Dr. Miller's groundbreaking research proves that children who have a positive, active relationship to spirituality are 40% less likely to abuse substances, and 60% less prone to teenage depression. Learn how and why developing a child's relationship with their innate spirituality strengthens their resilience and overall well-being.
CLICK HERE TO REGISTER FREE OF CHARGE
Tuesday, December 5, 5:30-7:30 PM
The Jewish Relations Community Council of the Greater Miami Jewish Federation presents AEI Senior Fellow Michael Rubin for a discussion of the Israel-Hamas War and the broader Middle East. Rubin is a Senior Fellow at the American Enterprise Institute (AEI), where he specializes in Iran, Turkey, and the broader Middle East.
Cocktails served at 5:30 PM | Remarks at 6:30 PM
The Rok Family Shul | Rooftop, 35 SE 9th Street, Miami
To register, please email [email protected]