Mayim Bialik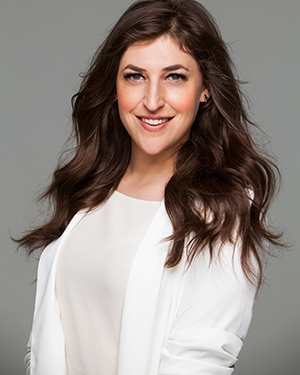 Mayim Bialik most recently starred on the hit CBS comedy, The Big Bang Theory for which she received two Critics Choice Awards, four Emmy Award nominations and a SAG Award nomination. From playing the young version of Bette Midler's character in Beaches to her turn as Blossom Russo in the 1990s sitcom Blossom, Bialik has appeared in numerous beloved roles throughout her career.
An acclaimed author, Bialik has written two #1 New York Times bestsellers, Girling Up: How to Be Strong, Smart and Spectacular, and Boying Up: How to Be Brave, Bold and Brilliant. She has also written a parenting book, Beyond the Sling, a cookbook, Mayim's Vegan Table and developed the lifestyle website GrokNation.com.
Bialik left acting for 12 years to earn a BS in Neuroscience from UCLA in 2000 with a minor in Hebrew & Jewish Studies. She went on to complete her PhD in Neuroscience at UCLA, where she was a student leader at Hillel and conducted and wrote music for its acapella group.
Bialik lives in Los Angeles with her tween and teenage sons and four adorable cats.