Oct 15, 2019
New CAJE Program Promotes Jewish Education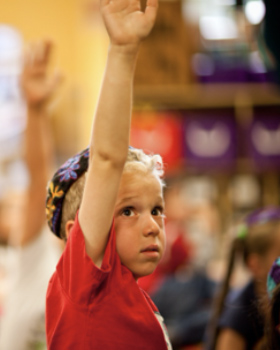 Five Jewish early childhood education programs have partnered with Federation subsidiary agency, the Center for the Advancement of Jewish Education (CAJE), to launch a new program designed to expand families' long-term connections to the Jewish community. Funded by Federation, the Jewish Resource Specialist (JRS) Initiative will coach teachers in how to encourage families' continued participation in formal Jewish education. The program includes teachers from the early childhood programs at Aventura Turnberry Jewish Center, Beth Torah Benny Rok Campus, Dave and Mary Alper Jewish Community Center, Temple Beth Sholom and Temple Judea. 
Although Miami has a large percentage of parents who enroll their children in Jewish early education programs, once they move on to elementary school, many of these families no longer affiliate with a Jewish institution. As a result, they become disconnected from the larger Jewish community. Through the JRS Initiative, teachers meet with parents to discuss plans for their family's Jewish journey. In addition to deepening the Judaic content at the schools and helping parents connect to one another, their goal is to better understand parents' intentions, explore opportunities for Jewish experiences and help create a path forward with Jewish communal life at its core.
"The heart of this new initiative is engagement," said Joy Schandler, CAJE's Director of Early Childhood and Congregational Education. "We are asking, 'What do you want for your family in regard to Jewish expression?' We are focused on guiding families to their next steps. Our continual conversations will center on creating new Jewish experiences and building greater interest in the Jewish community."
Schandler explained that the dialogue with parents also could lead to new approaches to Jewish education that better complement the lifestyles of today's families. CAJE adapted the three-year pilot program from a similar, successful effort developed by the Jewish Community Federation of San Francisco. Each step of Miami's JRS Initiative will be carefully monitored and documented to transform the early childhood programs into centers of engagement that will impact local children, parents and the larger Jewish community.