Strengthening Jewish Identity in the FSU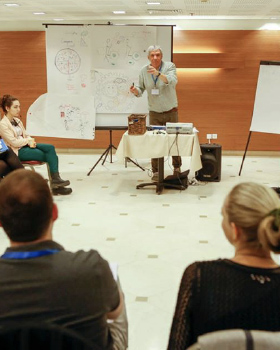 Federation overseas partner, the American Jewish Joint Distribution Committee (JDC), is making a difference in Jewish life across the former Soviet Union (FSU). The organization recently hosted its largest-ever volunteer conference for Jews across the FSU. The three-day conference, just outside Kiev, Ukraine, brought together more than 250 Jewish volunteers and professionals from JDC's regional Volunteer Center Network for educational sessions, expert presentations and team-building exercises aimed at strengthening the Jewish community.
Participants came from Russia, Ukraine, Belarus, Moldova, Kyrgyzstan, Kazakhstan and Georgia. Conference highlights included a volunteer fair where participants presented their most innovative programming and workshops focused on trends in volunteer activities, successful strategies for project management, resource development and PR and marketing. Additionally, a group of Israeli volunteers, with experience in launching and managing large volunteer projects, showcased their own initiatives.
"We're proud of our role in fueling a trend among thousands of Jews in post-Soviet countries to enthusiastically give back and build community," said Michal Frank, JDC's Director for the former Soviet Union. "By turning out in increasing numbers to aid the elderly and vulnerable, care for and cultivate local humanitarian institutions and engage their peers in Jewish culture and ideals, they are serving as role models for Jewish leadership today."
Launched in 2014, JDC's Volunteer Center Network has grown from a handful of passionate local leaders to more than 5,300 volunteers working in 44 cities in six countries to improve the lives of more than 40,000 people. JDC volunteers in the FSU promote volunteerism as a Jewish value by addressing important community needs and cultivating a strong sense of communal responsibility.