Federation Grant Supports Genetic Education, Counseling and Screening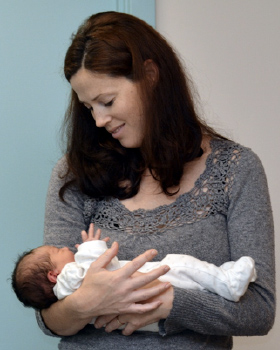 Jewish couples considering parenthood are learning about their risk for carrying Jewish genetic diseases, thanks to the efforts of Federation Women's Impact Initiative grant recipient The Victor Center for the Prevention of Jewish Genetic Disease at Nicklaus Children's Hospital of Miami.
Their program, What to Expect When You're Expecting with Jewish Genes, provides community-based educational and testing events about genetic diseases. The goal is to expand access to genetic education, counseling and screening services to healthy Jewish women and men who may be at risk for carrying gene mutations that may cause disorders in their children.
Half of all Ashkenazi (Eastern and Central European) Jews are carriers of at least one of 200 different Jewish genetic diseases. These include Tay-Sachs, Canavan, Familial Dysautonomia and Gaucher Disease.
Deborah Wasserman, a Victor Center Genetic Counselor, explained that the testing process helps future parents ensure the health of their children. "When we screen an individual and find a genetic mutation, we test the partner to determine whether they both have the same genetic disposition," she said. "We have been fortunate to successfully guide many potential parents through this process," she added.

In 2017, Nicklaus Children's Hospital became the Victor Center's national headquarters. For more information about the services of the Victor Center of Nicklaus Children's Hospital, visit www.victorcenter.org.
Each year, Federation awards Women's Impact Initiative Grants to local organizations that inspire and empower Jewish women and girls through programs that focus on social, economic, religious and political equality. For more information about the Women's Impact Initiative Grant program, contact Dahlia Bendavid at dbendavid@gmjf.org or 786.866.8445.