Federation Receives $200,000 Grant to Care for Holocaust Survivors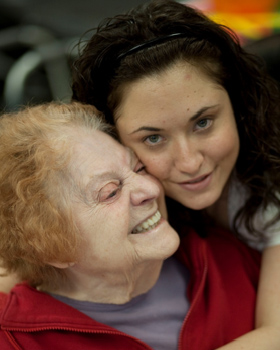 Federation has received a $200,000 grant from The Jewish Federations of North America to care for Holocaust survivors. Only five other federations were chosen as recipients of the Federally-funded program. In addition to the grant, Federation has committed $100,000 from the Annual Federation/UJA Campaign to help aging survivors with physical and emotional needs. Of the more than 100,000 Holocaust survivors in the U.S., approximately one in three lives in poverty. Many live alone and are at risk for social isolation, depression and other physical and mental health conditions stemming from periods of starvation, disease and torture.
Michelle Labgold, Federation's Chief Planning Officer, explained the funds will be used for "crisis prevention and response" within Miami's Holocaust survivor community. In some cases, this may require funding to meet short-term housing needs. Other situations may involve the installation of assistive devices that allow frail and elderly survivors to live independently. "This grant will help us bring together community agencies and advocates to identify and implement strategies that will prevent dislocation of survivors from their homes," she added.
Working in conjunction with our partner agency, Jewish Community Services of South Florida (JCS), as well as numerous other Jewish and secular organizations, Federation will be able to assist those who are at risk for institutionalization and support those to return to their homes safely.