New Arrivals Have a Place in Israel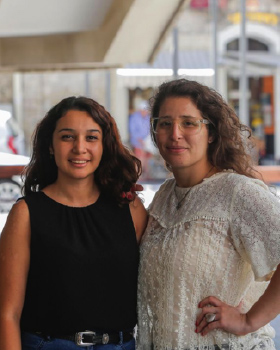 New immigrants to Israel are making a difference in the country's high-tech industry through Tech & The City, an initiative spearheaded by Federation overseas partner The Jewish Agency for Israel. The five-month program, geared toward 22- to 35-year olds, helps participants find their place in the country's booming technology sector. Tech & The City includes an entrepreneurship course at Technion – Israel Institute of Technology, intensive Hebrew instruction, housing and community-building extracurricular activities. Every year, several dozen olim (immigrants) participate in the program
Penny Falko, 29, left her senior position in a global banking corporation in Hungary to make aliyah and was drawn to the Tech & The City program to help her assimilate to her new home. "I sent an urgent email to The Jewish Agency for Israel to start working on my paperwork," she recalled. "I did not care if I had a wonderful career and family and friends in Hungary — I was determined to make aliyah."
Upon immigrating, Penny's first challenge was to find a job that suited her skills and experience. She initially lived in The Jewish Agency Tech & The City Ulpan Etzion, a residential study program and component of Tech & The City that offers new immigrants from around the world intensive education in Hebrew. Thanks to her time in the program, she managed to find what she calls "the perfect job" in Jerusalem.
The Jewish Agency's data shows that many of today's new immigrants to Israel come from careers in business, technology, engineering and related fields — professions that considerably strengthen the Israeli economy.
This year, Penny came full circle. Tasked with recruiting a new employee for her company, she asked The Jewish Agency if there were any suitable candidates from Tech & The City. "I recruited a new immigrant — someone just like me," she said proudly.