JBlend Educational Initiative Expands to Eight Jewish Day Schools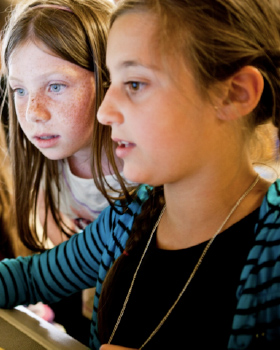 Four South Miami-Dade Jewish day schools have marked the start of the new school year by joining the #JBlendMiami Initiative, a forward-thinking approach to education, developed by the Center for the Advancement of Jewish Education (CAJE), a Federation subsidiary agency. Hochberg Lower School/Posnack East Campus, Mechina of South Florida, Yeshiva Toras Emes Academy of Miami and Yeshiva Elementary School have joined Beth David/Gordon Day School, Rabbi Alexander S. Gross Hebrew Academy, Lehrman Community Day School and Scheck Hillel Community School as part of the #JBlend program, which emphasizes personalized learning, technology and collaboration.
The #JBlendMiami approach emphasizes creativity and collaboration by highlighting individual expression. "#JBlend has encouraged the cultures of the participating schools to shift to a more student-oriented approach," explained Valerie Mitrani, CAJE's Director of Day School Strategy and Initiatives. "You see how the students' eyes light up and you have to ask yourself, 'How can I not teach this way?'"
Close to 30 teachers from the eight schools have used #JBlend to enhance their teaching and meet their students' needs. While each school has tailored the initiative to its own curricula, participating teachers from the eight schools work together, building relationships with one another as they collaborate and exchange ideas.
"#JBlend merges the power of technology with the talents of faculty and the curiosity of our students," said Jodi Bruce, Head of School at Lehrman Community Day School. "It empowers our students to become more independent learners, adapt their own learning styles to the curriculum and take more responsibility for their learning."
Craig Carpentieri, Chief Academic Officer at Scheck Hillel Community School, agrees, adding, "[It has]… really helped us grow and improve our approaches to education."
#JBlendMiami is funded by grants from the Greater Miami Jewish Federation, the Avi Chai Foundation and several generous local donors.

Click here for more information about #JBlend and other educational programs at our local Jewish day schools.