Bringing Israel to Campers at the JCC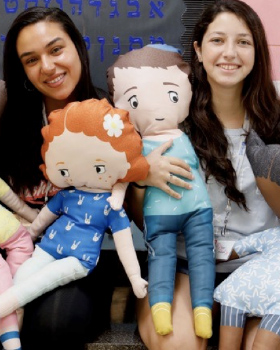 Six idealistic, young Israelis are bringing Israel to campers at the three Federation-funded Miami Jewish community centers, through a program of Federation overseas partner The Jewish Agency for Israel. The summer shlichim, Hebrew for "emissaries," recently completed their military or national service in Israel and are now cultural ambassadors at the JCC camps. They are also enjoying home hospitality from local families who share experiences that reflect Jewish life in America.
Adi Zizemski and Inbar Porat, based at Michael-Ann Russell JCC, offer fun introductions to Israeli society with creative educational tools. "Their role is to bring Israel to life at our camp, and to provide information and a connection to Israel," said Dror Gershoni, Children, Youth and Family Services Director at the Michael-Ann Russell JCC. "The kids love them." Inbar uses a colorful, illustrated parachute to familiarize youngsters with Israeli geography. The campers stretch the parachute and climb beneath it, as they locate specific landmarks.
Meanwhile, Eden Aharon and Koral Ouzan offer their talents to campers at the Dave and Mary Alper JCC. Eden, a skilled musician, plays guitar and teaches contemporary Israeli children's songs. In a separate classroom, Koral uses imaginative tools, including multi-cultural dolls to explain the ethnic and religious diversity of Israeli society.
"It's like having a little piece of Israel right here," said Alper JCC Camp Director Nikki Fernandez. "Eden and Koral teach our campers about ruach (spirit) and Jewish discovery. They strengthen our identity as a Jewish camp."
Aspiring actress Ariel Sheinberg teaches drama at the Galbut Family Miami Beach JCC, introducing campers to the language, customs and lifestyles in Israel. Her partner, Ido Shapira, uses puppets, games and stories to explain current affairs in Israel and the concept of unifying Israelis of diverse cultural backgrounds. Both Ariel and Ido are actively involved in planning the camp's Israel Day activities.
"They offer a different vision and build bridges between us and the people of Israel," said Jenny Mermelszteyn, Camp Director at the Miami Beach JCC. "We are very proud and grateful for the difference they make to our camp program."
All six
shlichim
are thoroughly enjoying their experiences in Miami and encourage their Israeli peers to apply for JCC camp assignments in future years. "But not too many," Ido said with a smile. "I want to come back."