The Masa Israel Teaching Fellows Program is a Life-Changing Experience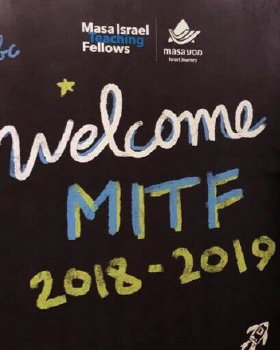 The Masa Israel Teaching Fellows Program, supported by your donations to the Annual Federation/UJA Campaign, is making history by embracing diversity, inclusion and tolerance. For one participant, Alex Sanchez, the journey of living and teaching in the city of Ramla as a Jewish transgender woman has been has been a life-changing time of acceptance.
Although Alex did not grow up with traditional Jewish American experiences, she always felt connected to her religion. Her first trip to Israel confirmed her sense of belonging and inspired her to get involved in Jewish life. She was accepted as a Masa teaching fellow and began working as an elementary school teacher, becoming the first transgender woman elementary school teacher in Israel. She has found a welcoming community that values her contribution.
"My four months teaching in Israel have been affirming and exciting," Alex said. "As a Jewish transgender woman, it is atypical to be embraced, even in progressive circles, as a teacher and community member. In Israel, I am seen for the quality of my work and welcomed as a fellow Jew, a native English speaker teaching their children and an American invested in the Jewish state and the children of Israel." Alex has even been "adopted" by a local family, spending Shabbat and Rosh Hashanah with them.
The Masa Israel Teaching Fellows program, run by Federation overseas partner The Jewish Agency for Israel, is open to college graduates, ages 20-35. Fellows spend 10 months teaching English to Israeli children while immersing themselves in Israeli society and gaining valuable work experience. Click here to learn more about how Federation supports Israel programs.