Local Jewish Day Schools and Yerucham Robotics Team Join Forces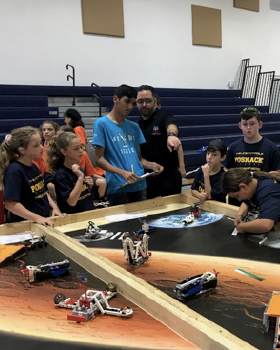 This week, students from eight Jewish day schools in Miami-Dade and one in Broward County enjoyed hands-on learning and mentorship at the Third Annual Jewish Day School Robotics Festival. Members of the award-winning Yerucham Robotics team traveled from Israel to Miami to lead activities, guide the young engineers and help prepare them for future robotics competitions. Spearheaded by Federation subsidiary agency the Center for the Advancement of Jewish Education (CAJE), the program is funded by the Miami-Yerucham Partnership.
Participation in the festival, held at Scheck Hillel Community School, grew from three schools the first year to nine schools, bringing a diverse group of students together for engagement and camaraderie. Participating schools included Rabbi Alexander S. Gross Hebrew Academy, Lehrman Community Day School, The Gordon School of Beth David Congregation, Posnack East/Hochberg Lower School, Temple Beth Am Day School, Yeshiva Elementary School, Yeshiva Toras Emes, Scheck Hillel Community School and Brauser Maimonides Academy in Hollywood. The program brings science and technology into classrooms and highlights the positive impact the Miami-Yerucham Partnership is having in both communities.