Federation's Interfaith Solidarity Vigil Attracts Thousands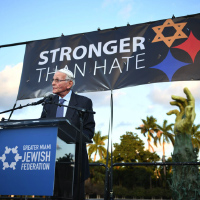 In the wake of the deadliest anti-Semitic attack in U.S. history, thousands of people gathered Tuesday night at an interfaith solidarity vigil at the Holocaust Memorial Miami Beach. Co-sponsored by the Greater Miami Jewish Federation and its Jewish Community Relations Council, the Holocaust Memorial Miami Beach, the Consulate General of Israel in Miami and the Rabbinical Association of Greater Miami, the community came together to "stand strong against anti-Semitism" and "stand strong against hate."
As the sun began to set, the crowd heard from Federation Board Chair Jeffrey Scheck, who eulogized each of the 11 victims of the Pittsburgh massacre. Norman Braman, Founding Chair of the Holocaust Memorial Miami Beach, a Federation Past President and noted community leader, gave a powerful address, decrying the rise of hatred in all forms and urging citizens to resist bigotry and intolerance. Rallying the crowd, he said, "…unbridled hate against any group is both contagious and dangerous. It cannot and must not be allowed to continue… not here, not anywhere – not anymore. Never again."
Speakers representing the African American and Muslim communities, the United Church of Christ and the Catholic Church highlighted the evening's theme of unity and the need to condemn hatred in all its forms. Israeli Consul General Lior Haiat reinforced the message. also addressed the crowd, who held signs reading "Stronger Than Hate." To close the vigil, the crowd, which included people of all ages and faiths as well as federal, state and local officials, joined together in a moving and uplifting rendition of We Shall Overcome.
Click here to view photos from the evening.