Orthodox Women Take the Stage in New Theater Troupe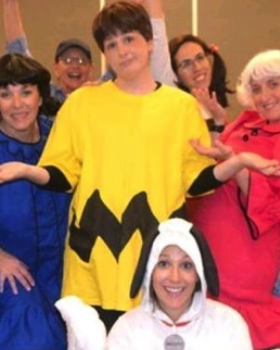 It was curtains up for the new Jewish Women's Theater (JWT) of South Florida, a theater group comprised of orthodox women, thanks to support from Federation's Women's Impact Initiative grant. The troupe recently performed You're a Good Man, Charlie Brown to an enthusiastic audience of women at the Michael-Ann Russell Jewish Community Center. Since religiously observant women cannot sing before audiences that include men and many theatrical groups perform on Shabbat and Jewish holidays, JWT offers the women a place to develop their interests and share their love of theater. The Federation grant helped underwrite event costs, including staging, venue rental, marketing and retention of directing, choreography and costuming professionals.
"Creative women find the need to showcase their talents and gain great satisfaction from performance," said JWT Executive Producer Sara Gottlieb. "Yet we found that there is no other venue in our community for orthodox women to perform. Together, we have discovered this tremendous sense of sisterhood that has driven all of us to do our best." A cast and crew of 40 women presented the group's inaugural show.
Women's Impact Initiative grants are awarded annually by Federation to support programs that inspire and empower Jewish women and girls in Miami. For more information about the Women's Impact Initiative grant program, contact Dahlia Bendavid at dbendavid@gmjf.org or 786.866.8445.