Only 17 Days Until Miami Mega Mission!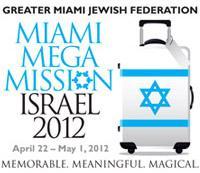 Just 17 days remain until Sunday, April 22, the day the El Al charter plane departs Miami International Airport, taking 400 Miami Mega Mission participants to Israel – and joining more than 300 more in our spiritual homeland for the journey of a lifetime. The much-anticipated trip is the culmination of more than two years of work by the Greater Miami Jewish Federation in cooperation with local synagogues, and is being chaired by Saby Behar, a Federation Past President and mission veteran.
To help preserve the many memorable moments for mission-goers and those back home, Federation has created a dedicated special website called MiamiMegaMissionLive.org. It will feature photos from the mission, updates on news and events, plus blog posts from several participants. Those on the mission can post their photos and interact with their fellow travelers through an online group set up for each bus, as well as on Facebook.com/miamimegamission. Twitter enthusiasts can join in the conversation by using the hashtag #megamission, and everyone can download the special mobile app for MiamiMegaMissionLive.org.
Also sending images daily to the website will be award-winning photographer Randi Sidman-Moore, who has documented past Mega Missions for Federation. She will be on the charter plane, along with Emmy-award winning filmmaker Jerry Levine and Michael Behar of Levine Films, both of whom will be capturing the journey on video. The two will create a souvenir video to be shared with Miami Mega Mission participants at the end of the journey.
Federation has arranged for television and newspaper reports to cover the Mega Mission and the Pre-Mission to Poland. Ted Scouten and Rafael Murciano of WFOR CBS 4 are traveling with the Pre-Mission to Poland, recording and sharing the impressions and activities of the 140 participants, including Holocaust survivors, as they tour significant sites of the Holocaust and pre-war Poland. Stories are expected to air locally on the Miami-based television station.
Award-winning WSVN-TV Channel 7 reporter Rosh Lowe and cameraman Luis Abad will send home a variety of stories from Israel. In addition to local reports, Lowe has covered major national stories and has appeared numerous times on CNN and Fox News Channel with his breaking news and exclusives. As this is his first trip to Israel, he will be sharing the excitement of other "first-timers."
The Miami Herald also plans to cover the mission.