Registration for 2011 Taglit-Birthright Israel Trip Now Open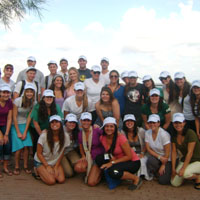 The Greater Miami Jewish Federation is organizing a special Taglit-Birthright Israel trip especially for Miami-area adults ages 22 to 26 this December, and registration is now open. Taglit-Birthright Israel offers first-time, peer-group, educational, 10-day trips to Israel at no charge to participants.
The Miami Community trip is based on the core Israel Quest itinerary and is specially offered to applicants who live in or are from the Miami area. This trip is the perfect way to experience Israel with new friends with whom participants can easily stay in touch locally after their return from Israel. Every year, the Annual Greater Miami Jewish Federation/UJA Campaign provides an allocation to the Birthright Israel Foundation, helping to make the trip possible for Miami-Dade County residents.
Taglit-Birthright Israel provides the gift of first-time, peer-group, educational trips to Israel for Jewish young adults, ages 18 to 26. Taglit-Birthright Israel's founders created this program to send thousands of young Jewish adults from all over the world to Israel as a gift in order to diminish the growing division between Israel and Jewish communities around the world; to strengthen the sense of solidarity among world Jewry; and to strengthen participants' personal Jewish identity and connection to the Jewish people. More than 500 people from Miami have taken part in Taglit-Birthright Israel since it launched more than a decade ago.
Click here to register and select "Community Groups" from the top menu. For more information, contact birthrightisrael@gmjf.org.