Get Ready for the Israel 65/Miami 75 Mission to Israel!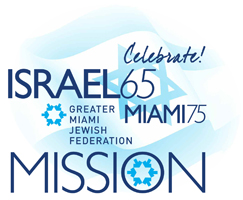 Were you part of Miami Mega Mission Israel 2012 – or wish you had been? People across Miami's Jewish community are still talking about this extraordinary journey. Here's your chance to join your Miami friends and neighbors in Israel in April 2013 – just in time to celebrate two milestones, the 65th anniversary of the creation of the modern State of Israel and the 75th anniversary of the founding of the Greater Miami Jewish Federation.
Mark your calendar now for the Israel 65/Miami 75 Mission, scheduled to take place April 10-19, 2013. By participating, you will be in our spiritual homeland to join in Israel's commemoration of Yom HaZikaron (Memorial Day) and celebration of Yom Ha'Atzmaut (Independence Day), and to enjoy eight days of spectacular touring, as well as five-star accommodations in Jerusalem, the Galilee and Tel Aviv. A Pre-Mission to Morocco is also being discussed.
More information will be available on JewishMiami.org in the coming weeks, including details on when registration will open. To put your name on a list of interested participants, please contact Federation's Missions Department at Missions@JewishMiami.org or 786.866.8436.