The Greater Miami Jewish Federation Mourns the Passing of Myron J. "Mike" Brodie, z"l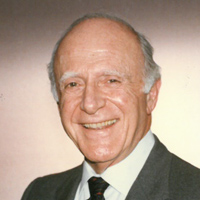 With great sadness, the Greater Miami Jewish Federation mourns the passing of Myron J. "Mike" Brodie, of blessed memory, a former Executive Vice President of Federation from 1972 to 1992. Brodie's impact on Jewish lives and on Jewish life was matched by few.
His passion for the Jewish people and his commitment to the well-being of Israel were forged by what he saw in the aftermath of the Shoah. He devoted his entire life and career to building a strong, secure and vital Jewish community, and in doing so, improved the lives of thousands of Jews in Miami, in Israel and around the world. May his memory forever be a blessing. Contributions in his honor may be made to Federation's Tzedakah Fund here. Consistent with the priority Brodie always placed on mentoring in the field of Jewish communal service, donations will support a fund in his name to enable young professionals to take part in transformative development opportunities. Click here to read his obituary in The Miami Herald.