Dream of Miami Beach JCC Becomes a Reality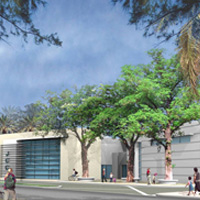 Among Miami Beach's iconic Art Deco buildings and hotels sits the new Galbut Family Miami Beach JCC on the Simkins Family Campus, the newest jewel of Miami Beach's architecture, ready and waiting to welcome its first visitors.
A dream more than 30 years in the making, Miami Beach's first full-service JCC will open for programming October 3, and hold a celebratory ribbon cutting on October 21. An opening gala will be held December 1. The new location will serve Miami Beach families of all observance levels, from residents on Hibiscus, Palm and Fisher Islands to those living north of Arthur Godfrey. While, the Miami Beach JCC has been operating on the Beach for decades, this new facility will provide a home that will maximize programming in a state-of-the-art location.
"I can't think of a single Jewish community that has a greater need for a unifying institution that will serve to bring us together so that we can celebrate both our similarities and our differences," said Jerry Sokol, the President and Campaign Chair of the Miami Beach JCC.
But the new institution almost didn't happen. As plans were drawn up, many people approached for donations didn't think it would ever come to fruition. The Greater Miami Jewish Federation and its generous donors helped guarantee a construction loan for the new Miami Beach JCC, putting faith and investing in area Jewish families.
"It meant a lot to see Federation step up and help the Miami Beach Jewish community accomplish such an important goal," Sokol said. "This is an example of what our people have done for each other since the beginning of our history, which is to come through for each other in our time of need."
"Federation has always maintained a strong commitment to the Jewish community of Miami Beach, proudly providing funding to the former JCC and support for a wide range of vital programs and services for residents of this unique neighborhood. When it came to the new Miami Beach JCC, we felt it both a privilege and responsibility to be part of its realization," Federation President and CEO Jacob Solomon said. "For Federation leadership, securing the success of the Miami Beach JCC is at the heart of our Mission as a convener of community."
More than a year after groundbreaking on the all-new center, the final touches are being added to the building made of mostly glass and Jerusalem Stone, among other elements, and dotted with olive trees, design choices that will further connect Miami Beach's diverse Jewish community to Israel.
"The impact that this new facility will have on programs offered to Beach families will be lasting from early childhood to summer camp, as well as cultural arts and recreation," Federation Board Chair Brian Bilzin said. "It will become a gathering place for Jews of all ages and interests."
Programming for all ages and interests is right; in addition to afterschool and enrichment classes for kids - including gymnastics, martial arts, robotics and multi-media arts - there are fitness and sports leagues of all sorts, parenting workshops, holiday celebrations and events and a vast array of classes for adults, such as guitar lessons, photography classes, nutrition and health workshops and even adult aerial yoga. Click here to view the Program Guide.
For more information about the new Galbut Family Miami Beach Jewish Community Center on the Simkins Family Campus, visit MBJCC.org.