Elderly Jews and Holocaust Survivors Find a Home and a Community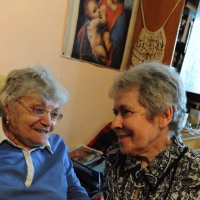 Did you know that more than 700,000 Israelis ages 65 and older can't afford to purchase or rent a home, and 27,000 low-income senior citizens are on waiting lists for subsidized shelter? What's more, half of them are Holocaust survivors. Federation's overseas partner, The Jewish Agency for Israel, addresses this crisis through its Social Housing Initiative.
In addition to nearly 60 Amigour Sheltered Homes across the country, another 3,000 units across nine Israeli cities are in the works. New developments on under-utilized land and the addition of floors to existing complexes will facilitate a quicker completion and more cost-effective homes.
Beyond building the physical structures many aging Israelis so desperately need, Amigour also builds community. Every week, residents are offered cultural, educational and recreational programs and volunteer opportunities. These activities provide a structured framework for social interaction, creating a stimulating and engaging environment. Above all else, these programs enhance the well-being and quality of life of Israel's elders.