Jewish Federations Helping Hurricane Sandy Victims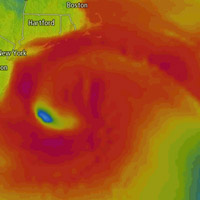 Immediately following the devastation caused by Hurricane Sandy on communities in New Jersey, New York and other Northeastern states, the Greater Miami Jewish Federation joined a national effort to raise funds to provide immediate, nonsectarian aid to those impacted by this tragedy. With the additional stress on this geographic region from the ensuing snowstorm, the federated system is also working to help those without power or heat.
To make a donation, click here.
Through The Jewish Federations of North America (JFNA), Miami's Jewish community regularly participates in collaborative efforts by Jewish and general volunteer organizations and works with local emergency management agencies and the Federal Emergency Management Agency (FEMA). These efforts enable a coordinated response to meet critical human needs, mobilize volunteers, assess damage and develop long-term recovery plans.
One week after Hurricane Sandy and utilizing donations to the JFNA Hurricane Sandy Relief Fund via localized efforts – such as those by the Greater Miami Jewish Federation – the JFNA Emergency Committee agreed to immediately disburse $500,000 to Jewish federations in New York and New Jersey to provide emergency humanitarian assistance. This includes aid with temporary shelter, emergency cash, food, gas, medications, supplies and other basic needs through JFNA's wide network of agencies and synagogues.
In addition to this, the UJA-Federation of New York is making up to $10 million available for relief efforts in New York. Federations across the continent have so far raised nearly $1 million to aid victims of Hurricane Sandy.
Many Jewish federations in the Northeast are also serving as central clearinghouses for assessing needs and mobilizing volunteers. Jewish community centers are serving as emergency shelters, and Jewish Family Service agencies are delivering kosher meals to homebound elderly and disabled Jews.
"As a community all too familiar with critical needs in the aftermath of a hurricane, the Miami Jewish community stands in solidarity with our sister communities in the North," said Greater Miami Jewish Federation Chair of the Board Brian L. Bilzin. "We are grateful for the opportunity to participate in this broad Jewish communal response."
To make a secure, online donation, please click here. Please note "Hurricane Sandy Relief Fund" in the comments area of the online donation form.
Checks also may be mailed payable to Greater Miami Jewish Federation, 4200 Biscayne Boulevard, Miami, FL 33137. Please note "Hurricane Sandy Relief Fund" in the memo area of the check. For more information, call 305.576.4000.
One hundred percent of all proceeds collected for this fund by Federation will be distributed through The Jewish Federations of North America (JFNA), the umbrella organization for Jewish community organizations across North America, as part of a national response to help victims in the Jewish and general populations. The Greater Miami Jewish Federation will continue to collaborate with JFNA and work to assess the needs in affected communities and provide immediate assistance.