JCRC, The Network to Present Pre-Election Day Forum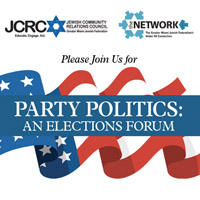 With elections on the minds of so many these days, the Greater Miami Jewish Federation will present Party Politics: An Interactive Discussion for ALL Inquiring Minds on Monday, October 22 at The Green Diamond, 4775 Collins Avenue, Miami Beach, from 6:30 to 8:30 p.m.
The event is organized by Federation's Jewish Community Relations Council (JCRC) and The Network, the Greater Miami Jewish Federation's under-40 division. Participants will hear from representatives of both the Democratic and Republican parties about what the upcoming election means for state ballot initiatives and related areas of interest.
Rep. Ana Rivas Logan (R-District 114), has been confirmed to speak, as has The Hon. Dan Gelber, former Democratic State Senator and Minority Leader of the Florida House of Representatives.
"As we are sure many people have questions about issues that concern them, this event will be an outstanding opportunity for attendees to get meaningful answers from the perspective of both major political parties before they go to the ballot box," said Jonathan Awner, JCRC Chair.
Sacha Boegem, Lindsay Sasha David and Adam Mait are Event Chairs and the program is supported by Women's Philanthropy of the Greater Miami Jewish Federation. Admission is $18, and $8 (pre-registration only) for Network365 members giving a minimum of $365 to the Annual Greater Miami Jewish Federation/UJA Campaign to support vital programs in Miami, Israel and worldwide.
Refreshments will be served and dietary laws will be observed. There will be complimentary valet parking, and no solicitation of funds at the event.
For more information, please contact The Network at 786.866.8446 or TheNetwork@JewishMiami.org. To register online, click here. Network365 members, click here.