Masa Israel Journey Offering Wine and Organic Living Experiences in Israel this Fall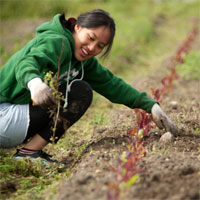 Masa Israel Journey, the Greater Miami Jewish Federation/Jewish Agency for Israel-funded program that brings post-college adults on transformative experiences through Israel, has two new, five-month programs available that will ignite the passions of anyone with an interest in Judaic studies, Israel, organic living and wine — Israel Wine Experience and LaMidbar.
Israel Wine Experience is a five-month program with the time split between Ohalo College in the Golan Heights-area town of Katzrin, and the vineyards of Burgundy, France. While in France, students will take a sensory evaluation course and tour local wineries with France's leading sommeliers and winemakers.
At Ohalo, participants will attend daily seminars on enology, the science of wine making, and viticulture, the science, production and study of grapes. Classes will also be taught on the history of wine in Israel, which has 200 wineries and produces more than 1 million bottles per year. Then for three months, participants will intern at an Israeli winery and follow Israel's growing season from sow to harvest.
Israel Wine Experience runs from June 2 through October 31. The deadline for registration is May 2. For more information and to sign up, visit destinationisrael.com/Israel-wine-experience.
LaMidbar takes place at Kibbutz Neot Semadar in the shadows of the Negev Desert mountains. Participants will join a kibbutz work team and spend one day a week on an ecological project, learning about sustainable living practices. They will learn to build using local materials and sustainable building techniques suited to the desert environment, such as straw bales, mud and clay plaster, and learn about passive cooling towers and generating energy from organic waste.
Experiencing kibbutz life as a community is a beautiful feature of LaMidbar, where participants will eat together, share tea around a campfire, work together, enjoy Shabbat dinner and conversation. As a team, they will work the land, milking and herding goats, making cheese from the goats' milk, growing organic vegetables, harvesting the orchards at the kibbutz's date plantation and picking and curing olives.
In addition, this experience allows one's inner artist to emerge by working in the studios of local artisans, undertaking an apprenticeship in carpentry, metal work or stained glass creation.
LaMidbar starts July 1 and ends November 30. A second session in 2014 starts February 1 and ends June 30. The deadline to apply for the fall semester is June 15. For more information and to apply, visit masa.neot-semadar.org.
Throughout the five months, participants in both the Israel Wine Experience and LaMidbar will explore the religious connections between their chosen field and Judaism, while taking intensive Hebrew ulpan classes.
For more information on either of these programs or any Masa Israel Journey experiences, contact Israel Programs Coordinator Tara Stiel at 786.866.8458 or email tstiel@gmjf.org.