Families Donate School Supplies to JCS Kosher Food Bank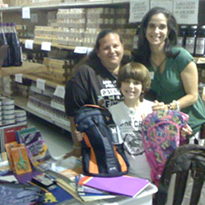 After traveling on the Greater Miami Jewish Federation "We Are Family" Mission to Israel during the summer, members of the Politano family from North Dade – along with other mission participants – returned home energized and ready to give back to the community. Parents Ana Karina and Jonathan, and their son Dimitri, recently took part in the annual Jewish Community Services of South Florida (JCS) "Milk & Honey" program, which delivers kosher food baskets to seniors and others in need during the High Holidays.
Then the Politanos made another special delivery — to the JCS Kosher Food Bank.
Gareth Fink (far left) of the JCS Kosher Food Bank, with Ana Karina and Dimitri Politano and some of the donated school supplies.
With the economy placing tremendous pressure on many in Miami, the JCS Kosher Food Bank is working hard to serve approximately 300 client families, including about 160 school-age children. Parents are not just struggling to provide food for their families, but also to give their children even the most basic of school supplies. The Politanos delivered boxes of the much-needed materials they and other mission participants contributed.
"Federation is proud to count JCS among its Partner Agencies," said Board Chair Barbara Black Goldfarb. "The JCS Kosher Food Bank serves a vital part of our community during these difficult economic times, and it also offers families and children a great volunteer opportunity."
The JCS staff was overwhelmed by the number of items that were packed and donated. Among them: many of Dimitri Politano's own toys and games, to be given to young children who receive assistance from the JCS Kosher Food Bank.
All of that generosity will help fill backpacks and pantries in coming days, and allow recipients an opportunity to focus on what matters most at this time of year — family.