Interfaith Community Comes Together for 2017 Freedom Seder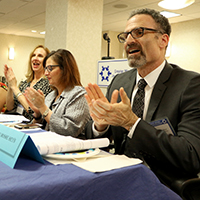 More than 70 people came to the Greater Miami Jewish Federation on Wednesday, March 29 to attend the 2017 Freedom Seder and bring awareness to the growing crime of domestic sex trafficking of minors. The program was covered by Federation's Task Force to Combat Human Trafficking – a collaborative initiative created in 2013 by Federation's Jewish Community Relations Council (JCRC) and Women's Philanthropy – in partnership with the American Jewish Committee (AJC).
"It was a great privilege to host this Seder," said Nancy Zaretsky, Task Force Chair, "which allowed us to educate the wider community on an essential tenet of being Jewish — that of collective responsibility — so they could better understand Jewish activism."
Through the Seder and other events, the Task Force raises public awareness of human trafficking in Miami-Dade County and Florida, and aims to strengthen state statutes regarding domestic sex trafficking of minors through collaborative efforts across non-profit, private and government sectors.
The Freedom Seder takes place annually prior to Passover, which focuses on the ancient Israelites' liberation from slavery in Egypt and celebrates the freedom of the Jewish people. "Participating in the fight against human trafficking is essential to who we are as Jews," said Zaretsky. "The Passover Seder is one of the most celebrated traditions and one of the ways we appreciate our freedom. Along with this recognition comes a duty not only to share our freedom story, but also to use it as a call to action and shine a light on those who are not free."
The group that gathered for the Freedom Seder included representatives from Consulates General from approximately a dozen countries, leaders of civic and interfaith organizations and law enforcement. Members of the Women's Fund of Miami-Dade's Freedom from Violence Coalition, a countywide group of non-profit, civic and government organizations that share concerns about the issue of human trafficking, also participated in the Seder. Other community leaders and residents, including representatives from the Miami-Dade County Community Relations Board and religious groups of different faiths, were present to shed light on modern-day slavery.
According to the U.S. Department of State and the International Labor Organization, revenues in worldwide trafficking exceed $32 billion annually. Federal statistics also suggest that tens of thousands of young people born in America are at risk of sexual endangerment or exploitation. The average entry age for domestic, commercially-sexually exploited children is 12-13 years. Miami is considered a major transit center for persons illegally trafficked into the United States.
Since its foundation in the spring of 2013, the Task Force has made great strides in bringing awareness to the sex trafficking of minors, most notably with the declaration of Human Trafficking Awareness Day on January 17, 2017 by the Miami-Dade County Commission, and lobbying the legislative delegation in the state capitol on new protective laws. The group also collaborated with the National Council of Jewish Women (NCJW) and Hadassah to collect clothes to provide for victims of sex trafficking and created a social media campaign, which garnered more than 1,000,000 impressions, significantly increasing the awareness of this growing crime.
JCRC is the public policy and advocacy arm of Federation. Working together with individual volunteers and almost 20 Jewish organizations and Federation departments, the JCRC has a far reach into the community. For more information on the JCRC, email communityrelations@jewishmiami.org or call 786.866.8486.