UM Offers Spring 2010 Semester in Israel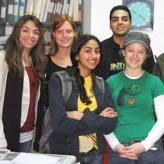 In cooperation with The George Feldenkreis Program in Judaic Studies and The Sue and Leonard Miller Center for Contemporary Judaic Studies (a beneficiary agency of the Greater Miami Jewish Federation), the University of Miami's study-abroad campus in Israel — UGalilee — is offering a unique opportunity for students to study for the Spring 2010 semester in the north of Israel, the birthplace of Rabbinic Judaism and early Christianity.
Students will have the unique opportunity to study with UM faculty and Israeli scholars while taking study trips throughout Israel to such places as Jerusalem, the Golan Heights, Caesarea, Nazareth, the Sea of Galilee and Masada.
Participants in the program will earn 15 UM credits and a Minor in Judaic Studies while they take courses on Judaism and Christianity, as well as the history, literature and culture of ancient and modern Israel. They will also study archaeology and participate in a dig.
Accommodations will be provided at the modern ORT-Braude College (OBC) in Karmiel. For further information, call 305.284.8180 or email aberezin@miami.edu. Visit the UGalilee website.

The OBC campus is a modern, full-service facility with a wide range of services. This self-contained and enclosed college community provides for the needs of its students on campus, which is within close proximity to shops and other urban facilities in Karmiel.