Greater Miami Jewish Federation to Provide Financial Assistance to Bulgaria Terror Victims Through Jewish Agency for Israel (JAFI) Fund for the Victims of Terror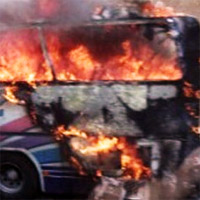 The Fund for the Victims of Terror, operated by The Jewish Agency for Israel and made possible by contributions from the Greater Miami Jewish Federation and Jewish federations across North America, will provide financial assistance to Israelis wounded in the attack in Bulgaria and to the families of those killed in the July 18 attack in the resort town of Burgas. The five Israeli tourists killed in the attack have been identified as Maor Harush, 24, and Elior Price, 25, from Acco; Itzik Kolangi, 28, and Amir Menashe, 28, from Petah Tikva; Kochava Shriki, 42, from Rishon Letzion. The sixth victim was the Bulgarian bus driver, Mustafa Kyosov, 36.
For a full statement from the Greater Miami Jewish Federation on the attack, please click here.
A team of Israeli doctors and first responders, led by Tel Aviv Sourasky Medical Center Dir.-Gen. Prof. Gabriel Barbash, along with Foreign Affairs Ministry professionals and security personnel flew directly to Burgas following the attack and an extended team from Israel a few hours later. Shortly afterwards, Israel Air Force Hercules transport planes airlifted 32 of the wounded Israelis back to Israel. Another plane load of the injured will be flown back to Israel later today. An additional three Israeli victims in critical condition will remain hospitalized in Bulgaria.
The Victims of Terror fund will help those affected by the attack address supplemental needs. Any family that experienced the loss or injury of a loved one in the attack may request assistance from the fund. The Fund, established in 2002, provides financial assistance to victims of terror in Israel. Since its establishment, the fund — which is sustained by contributions from Jewish federations, philanthropic foundations and donors around the world — has enabled The Jewish Agency to provide thousands of terror victims and their families with assistance at a scope of more than NIS 100 million.
Contributions to the Victims of Terror Fund may made online by clicking here, by calling 305-576-4000, x. 428 or by mailing a check to the address below. One hundred percent of all contributions to the Greater Miami Jewish Federation will go to this special Fund for Victims of Terror.
Greater Miami Jewish Federation
4200 Biscayne Boulevard
Miami, FL 33137
Attn: Victims of Terror Fund