Free Jewish Books for Children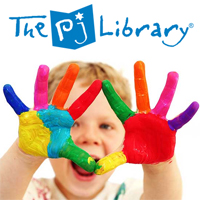 Thousands of Miami children can enjoy bedtime stories about Jewish values and traditions, thanks to the Greater Miami Jewish Federation's early childhood program called The PJ Library.
Named after the bedtime garb, The PJ Library aims to help families teach their children the tenets of Judaism through children's books.
Families who subscribe to The PJ Library open their mailboxes each month to find a brand-new book featuring a Jewish topic. The program is free for Miami-Dade County children up to the age of eight and allows youngsters to build their own Jewish library at home. Register here.
Miami's PJ Library also hosts events throughout the year that offer young children and their parents a chance to explore their Jewish roots together. All of these events are free and open to the public.
The PJ Library is part of a national program founded in 2005 by the Harold Grinspoon Foundation. Miami's PJ Library chapter is funded by the Blank Family Foundation, started by one of Federation's founders, Sam Blank. It is being operated in partnership with a wide range of early childhood centers, Jewish community centers, synagogues and agencies who share the program's goal to reach as many children as possible.

Read our PJ Library FAQ section.

To search for upcoming PJ Library events, visit the Community Calendar.

More news and events for young families may be found at The Community Post. Check out our online newspaper today.
Upcoming Events
Explore and Create Your Very Own Family Tree at the Institute of Contemporary Art On Sunday, April 26 from 1 to 3 p.m., join us for a very special program for our PJ families with children ages 3 to 8. Participants will explore the concept of family trees, reflect on the concept of "heritage," develop their own tree with branches, and have a hands-on opportunity to create photo-portraits of themselves. Space is limited to the first 20 children that RSVP to pjlibrary@jewishmiami.org.  An $18 fee per child includes admission and all supplies. Adults are free. The Institute of Contemporary Art is located at 4040 NE 2 Avenue, Miami. PJ Our Way Program on Sunday, May 31! On Sunday, May 31 from 10 a.m. to 2 p.m., PJ Our Way kids ages 9 to 11, will have their very own program with the Institute of Contemporary Art. The day will feature a photographic scavenger hunt at the Wynwood Arts District and an exploration of "memories" upon returning to the Institute. For more information or to save your spot, please contact pjlibrary@jewishmiami.org. RSVPs are required due to limited space. $18 per child will include admission and all supplies. Adults are free. PJ Our Way is the next chapter of PJ Library for kids ages 9 to 11. Just like PJ Library, this program is free and every Jewish child from 9 to 11 is eligible to sign up. Unlike PJ Library, rather than receiving a specific book in the mail, kids can go to www.pjourway.org every month to choose the book they want to receive.
April 11 beginning at 7:30 p.m.
Nefesh Mountain Bluegrass Concert at Bosque Courtyard at the Alper JCC
Bring a blanket and head to the JCC for a concert under the stars with friends and family! Nefesh Mountain is the duo of Doni Zasloff and Eric Lindberg. Together they write songs in the stylings of American Old-Time, Bluegrass, Folk, and Celtic music within the Jewish tradition. They utilize the strengths of two part harmony, over the backings of the sound of guitar, banjo, and mandolin. $10 admission per person or $36 family rate (2 adults & children). For more information, please call 305.271.9000, x268. Click here to purchase tickets. The Alper JCC is located at 11155 SW 112 Avenue, Miami.

Sunday, April 12 at 3 p.m.
Mama Doni Children's Concert at the Alper JCC –
Robert Russell Theater
Sing along at this upbeat, interactive children's concert! Mama Doni and her band celebrate Jewish culture with irrepressible zest in high-energy, interactive family rock concerts filled with an unexpected blend of reggae, rock, disco, Latin, and klezmer – all woven together with soulful Jewish energy. Before the concert, come to the Children's Museum from noon to 3 p.m., and enjoy POP ART! The Andy Warhol Studio A Children's Interactive Exhibit. POP ART! is a unique, interactive exhibit that encourages children to create art in the whimsical spirit of Andy Warhol and the Pop Art movement. Tickets per person are $12 Concert & POP ART! Exhibit / $10 Concert only / $5 Museum Exhibit only. Click here to purchase tickets. For more information, please call 305.271.9000, x268. The Alper JCC is located at 11155 SW 112 Avenue, Miami.


Click here to learn more about The PJ Library or contact us at PJLibrary@JewishMiami.org or 786.866.8572.
Subscribe to our e-newsletter.
View photos and videos from past events.
Visit our online group.