Free Jewish Books for Children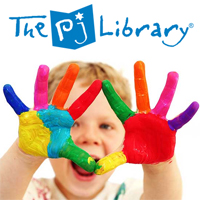 Thousands of Miami children can enjoy bedtime stories about Jewish values and traditions, thanks to the Greater Miami Jewish Federation's early childhood program called The PJ Library.
Named after the bedtime garb, The PJ Library aims to help families teach their children the tenets of Judaism through children's books.
Families who subscribe to The PJ Library open their mailboxes each month to find a brand-new book featuring a Jewish topic. The program is free for Miami-Dade County children up to the age of eight and allows youngsters to build their own Jewish library at home. Register here.
Miami's PJ Library also hosts events throughout the year that offer young children and their parents a chance to explore their Jewish roots together. All of these events are free and open to the public.
The PJ Library is part of a national program founded in 2005 by the Harold Grinspoon Foundation. Miami's PJ Library chapter is funded by the Blank Family Foundation, started by one of Federation's founders, Sam Blank. It is being operated in partnership with a wide range of early childhood centers, Jewish community centers, synagogues and agencies who share the program's goal to reach as many children as possible.

Read our PJ Library FAQ section.

To search for upcoming PJ Library events, visit the Community Calendar.

More news and events for young families may be found at The Community Post. Check out our online newspaper today.
Upcoming Events
Two Great Ways to Give Back with Your Children on Sunday, March 15: Super Sunday and Good Deeds Day at Greater Miami Jewish Federation from 9 a.m. to 7 p.m. Join PJ Library and PJ Our Way at the Greater Miami Jewish Federation Headquarters for Good Deeds Day and Super Sunday. Good Deeds Day is an annual global celebration, where hundreds of thousands worldwide join together to do good deeds for the benefit of others and the planet. At 10:00 a.m., there will be two different volunteer opportunities for our PJ-aged families. For those ages 5 and younger, join us in creating beautiful placemats for the elderly! Get ready to brighten the day of an older adult who attends a Jewish Community Services Meal Site. Volunteers will be creating bright, fun and festive placemats which will be donated to the Meal Site for the seniors to enjoy. Families with children from 5 to 8 years old should join us under the tent and bring with them BRAND NEW pajamas sized 5-14 and a gently read or new book in order to participate in this project. Volunteers are also asked to bring non-perishable, individually wrapped snacks like cookies or power bars! Together with your family, your child will make a book plate to place inside the book and a card to go with the package. Families will wrap up the pajamas with cellophane and ribbons. These packages will be given to women and children in need locally in our community. At 10:30 a.m., meet up with other PJ Our Way readers (ages 9 to 11) to pack Brown Bagged Lunch creations to benefit our homeless in Miami. Tweens and their families can make brown bagged lunches onsite and create inspirational cards for the homeless in our community. These lunches will go to one of our local homeless shelters; they will be arriving with their van to pick up the bagged lunches at noon. Super Sunday is Federation's largest annual phonathon. Hundreds of volunteers will gather together to make phone calls to Jewish households in Miami asking for their participation in the Annual Greater Miami Jewish Federation/UJA Campaign. It's not just a day-long phonathon...it's a marathon of good deeds that build Jewish community, help those in need and strengthen Jewish life in Miami, in Israel and worldwide 365 days a year through Federation programs and services. To volunteer on Good Deeds Day and Super Sunday, click here. Greater Miami Jewish Federation is located at 4200 Biscayne Boulevard, Miami.


Click here to learn more about The PJ Library or contact us at PJLibrary@JewishMiami.org or 786.866.8572.
Subscribe to our e-newsletter.
View photos and videos from past events.
Visit our online group.