Free Jewish Books for Children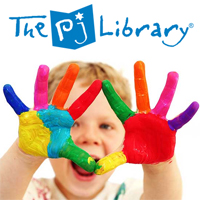 Thousands of Miami children can enjoy bedtime stories about Jewish values and traditions, thanks to the Greater Miami Jewish Federation's early childhood program called The PJ Library.
Named after the bedtime garb, The PJ Library aims to help families teach their children the tenets of Judaism through children's books.
Families who subscribe to The PJ Library open their mailboxes each month to find a brand-new book featuring a Jewish topic. The program is free for Miami-Dade County children up to the age of eight and allows youngsters to build their own Jewish library at home. Register here.
Miami's PJ Library also hosts events throughout the year that offer young children and their parents a chance to explore their Jewish roots together. All of these events are free and open to the public.
The PJ Library is part of a national program founded in 2005 by the Harold Grinspoon Foundation. Miami's PJ Library chapter is funded by the Blank Family Foundation, started by one of Federation's founders, Sam Blank. It is being operated in partnership with a wide range of early childhood centers, Jewish community centers, synagogues and agencies who share the program's goal to reach as many children as possible.

Read our PJ Library FAQ section.

To search for upcoming PJ Library events, visit the Community Calendar.

More news and events for young families may be found at The Community Post. Check out our online newspaper today.
Upcoming Events
Introducing "Tot Time@The Museum!"
Wednesday, May 14 at 10:30 a.m.
A New Program Brought to Our Families by The Jewish Museum of Florida-FIU, PJ Library in Miami and The Network of Greater Miami Jewish Federation
Parents, grandparents, and caregivers, bring even your littlest ones to our first "Tot Time@The Museum." Start your morning with a dairy bagel breakfast, enjoy hearing a PJ Library story, and then take a private tour of touchable artifacts followed by a craft activity. The theme of the day is food in recognition of the current exhibit, "Growers, Grocers & Gefilte Fish!" The $18 family admission ($10 for members) includes all of the morning's offerings. For more information or to RSVP by May 12, please call 786.866.8572 or PJLibrary@JewishMiami.org. The Jewish Museum of Florida-FIU is located at 301 Washington Avenue, Miami Beach.

Friday, May 16 from 5:45 to 6:30 p.m.
Join Guest Artist-in-Residence Ellen Allard for
Sababa Shabbat and Dinner
Temple Israel of Greater Miami's Joni & Stanley Tate ECC
Award-winning performer, composer and educator Ellen Allard will be Temple Israel's guest artist-in-residence for an intergenerational "Song, Spirit and Celebration" Shabbat weekend from May 16 to 19. This weekend will include three family-friendly Shabbat experiences beginning with the Friday evening Sababa Shabbat for families with children age 5 and younger. Temple Israel's monthly Sababa includes blessings and prayers with Rabbi Tom Heyn, music and dance fun with Mallie Duboff, and a PJ Library story time. Kids and parents alike will delight in Ellen leading the festivities May 16. An early family-friendly dinner follows at $15 per adult, $5 per child. Please RSVP for dinner by May 15 to the Temple office at 305.573.5900 or info@templeisrael.net. Temple Israel is located at 137 NE 19 Street, Miami. Free self-parking in the Temple lot.


Friday, May 30 at 5:30 p.m.
Graduation Friday Night Live
Aventura Turnberry Jewish Center
The Aventura Turnberry Jewish Center & Tauber Academy invite you to our Graduation Friday Night Live. Join Rabbi Jonathan Berkun on guitar, Cantor David Muchnick on keyboard and Cantor Marcos Askenazi on bongos for our final Friday Night Live of the season. There will be bounce houses, a child-friendly menu and a frozen dessert bar. This event is free and open to the community. In support of the JCS Kosher Food Bank Summer Fun Collection we ask that you bring a donation of any of the following: goggles, beach toys, sidewalk chalk, outdoor toys, swim diapers, water wings, pool toys, rafts, or sunscreen for children. Please RSVP to 305. 937.1880 or rsvp@atjc.org. The Aventura Turnberry Jewish Center is located at 20400 NE 30 Avenue, Aventura.

Friday, May 30 at 6:00 p.m.
How 'Bout Shabbat: Superhero Shabbat!
A Family Experience at Temple Beth Am
Celebrate Shabbat with music, stories, and superhero fun! This service is designed and created especially for children up to age 8 and their families. Please bring your little superheroes to a special Shabbat led by our very own "Wonder Woman," Rabbi Rachel Greengrass. Immediately following services in the chapel, please join us for a delicious catered dinner outside on the terrace. Face painting, bounce houses, arts & crafts, and so much more. Adults $25 per person, children 6-12 are $13 and toddlers 2-5 are $5. Temple Beth Am is located at 5950 N. Kendall Drive, Pinecrest. Please register online at www.tbam.org/superhero or contact Rachel in the Membership Department at 305.667.6667, ext.105




Click here to learn more about The PJ Library or contact us at PJLibrary@JewishMiami.org or 786.866.8572.
Subscribe to our e-newsletter.
View photos and videos from past events.
Visit our online group.