Free Jewish Books for Children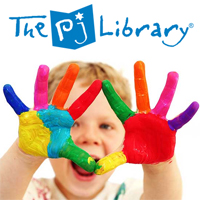 Thousands of Miami children can enjoy bedtime stories about Jewish values and traditions, thanks to the Greater Miami Jewish Federation's early childhood program called The PJ Library.
Named after the bedtime garb, The PJ Library aims to help families teach their children the tenets of Judaism through children's books.
Families who subscribe to The PJ Library open their mailboxes each month to find a brand-new book featuring a Jewish topic. The program is free for Miami-Dade County children up to the age of eight and allows youngsters to build their own Jewish library at home. Register here.
Miami's PJ Library also hosts events throughout the year that offer young children and their parents a chance to explore their Jewish roots together. All of these events are free and open to the public.
The PJ Library is part of a national program founded in 2005 by the Harold Grinspoon Foundation. Miami's PJ Library chapter is funded by the Blank Family Foundation, started by one of Federation's founders, Sam Blank. It is being operated in partnership with a wide range of early childhood centers, Jewish community centers, synagogues and agencies who share the program's goal to reach as many children as possible.

Read our PJ Library FAQ section.

To search for upcoming PJ Library events, visit the Community Calendar.

More news and events for young families may be found at The Community Post. Check out our online newspaper today.
Upcoming Events
Chanukah Fest for the Community with Elana Jagoda on Sunday, November 24

PJ Library in Miami invites you to Chanukah Fest for the community. Enjoy a groovin' Jewish concert for the entire family with renowned Zum Gali Gali performer Elana Jagoda on Sunday, November 24, 2013. The concert begins at 2:00 p.m. in the Hessel Youth Complex at Temple Beth Am, 5950 N. Kendall Drive, Pinecrest. Gates open at noon for a community-wide picnic on the green. Bring a blanket and a picnic lunch. Food also available for purchase at the Food Truck Rally. General Admission Tickets: $5 each or four for $18. Free, ample and easy parking available. For more information, please call 786.866.8572.

Click here to purchase your general admission tickets in advance.

A limited number of VIP sponsorship opportunities with reserved seating are available. For more information, please email PJLibrary@JewishMiami.org or call 786.866.8572.


Click here to learn more about The PJ Library or contact us at PJLibrary@JewishMiami.org or 786.866.8572.
Subscribe to our e-newsletter.
View photos and videos from past events.
Visit our online group.