Free Jewish Books for Children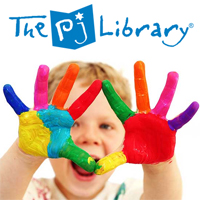 Thousands of Miami children can enjoy bedtime stories about Jewish values and traditions, thanks to the Greater Miami Jewish Federation's early childhood program called The PJ Library.
Named after the bedtime garb, The PJ Library aims to help families teach their children the tenets of Judaism through children's books.
Families who subscribe to The PJ Library open their mailboxes each month to find a brand-new book featuring a Jewish topic. The program is free for Miami-Dade County children up to the age of eight and allows youngsters to build their own Jewish library at home. Register here.
Miami's PJ Library also hosts events throughout the year that offer young children and their parents a chance to explore their Jewish roots together. All of these events are free and open to the public.
The PJ Library is part of a national program founded in 2005 by the Harold Grinspoon Foundation. Miami's PJ Library chapter is funded by the Blank Family Foundation, started by one of Federation's founders, Sam Blank. It is being operated in partnership with a wide range of early childhood centers, Jewish community centers, synagogues and agencies who share the program's goal to reach as many children as possible.

Read our PJ Library FAQ section.

To search for upcoming PJ Library events, visit the Community Calendar.

More news and events for young families may be found at The Community Post. Check out our online newspaper today.
Upcoming Events
Saturday, December 6 from 10:30 a.m. to Noon
Shabbat for Kids at Aventura Turnberry Jewish Center
Join us for Tot Shabbat and Junior Congregation, ATJC's monthly services for younger worshippers. Tot Shabbat for families with children under 6 years old is an interactive, parent/toddler Shabbat experience that explores holiday theme with puppets, music, treats, bounce house, and more! Junior congregation with Cantor Marcos Askenazi is for children from 6 to 13. A totally awesome experience with games, prizes, and a special prayer service designed for these children. Aventura Turnberry Jewish Center is located at 20400 NE 30 Avenue, Aventura.

Tuesday, December 9 at 5:00 p.m.
Sifriyat Pijama B'America at the Miami Beach JCC
Lehrman Community Day School in partnership with Sifriyat Pijama B'America presents an evening of fun and friendship with a Hebrew story reading, activities, and snacks. This event is free and open to the community. To RSVP or for more information about the event, please contact Ayala Zeev at azeev@lehrmanschool.org or 305.866.2771, ext. 29. The Miami Beach JCC is located at 4221 Pine Tree Drive, Miami Beach.

Thursday, December 11 from 10:30 to 11:30 a.m.
Hanukkah Courage Tot Time at
The Jewish Museum of Florida-FIU
Join us for a special PJ Library story relating to our current exhibit: "From a Coin Toss Into Politics: The Life of a Senator." This is an interactive program where children can explore Ometz Lev (courage of the heart) and engage in a hands-on activity as we approach the Festival of Lights. You can even sit and have your picture taken in Senator Stone's chair from his days in Washington, DC with a full gallery of Senators in the background! We will relate to "courage" through our dynamic reading of The Hanukkah Trike by Michelle Edwards. Afterwards, we will assemble menorahs and "name our candles" with words that exude confidence and courage. Coffee, juice and snacks will be served. Free for JMOF-FIU members or with Museum admission. The Jewish Museum of Florida-FIU is located at 301 Washington Avenue, Miami Beach. For more information, contact Chaim Lieberperson, Education Manager at 786.972.3187 or education@jewishmuseum.com.

Sunday, December 14 at Two Locations
PJ Library Story Time at Books & Books
At 10:30 a.m., the Glen Greenstein ECE at the Dave and Mary Alper Jewish Community Center hosts a children's story time and activity at the Books & Books in Coral Gables. Books & Books in Coral Gables is located at 265 Aragon Avenue. For more information, please call 305.442.4408.

At noon, Lehrman Community Day School will be hosting a Hanukkah-themed program including story time, pin the light on the menorah, Maccabee dress up, and a latke bar at Books & Books in the Shops of Bal Harbour on the third floor. The Shops are located at 9700 Collins Avenue. For more information, please call 305.864.4241.



Click here to learn more about The PJ Library or contact us at PJLibrary@JewishMiami.org or 786.866.8572.
Subscribe to our e-newsletter.
View photos and videos from past events.
Visit our online group.