Free Jewish Books for Children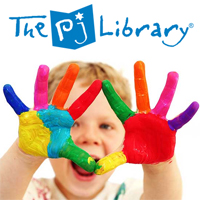 Thousands of Miami children can enjoy bedtime stories about Jewish values and traditions, thanks to the Greater Miami Jewish Federation's early childhood program called The PJ Library.
Named after the bedtime garb, The PJ Library aims to help families teach their children the tenets of Judaism through children's books.
Families who subscribe to The PJ Library open their mailboxes each month to find a brand-new book featuring a Jewish topic. The program is free for Miami-Dade County children up to the age of eight and allows youngsters to build their own Jewish library at home. Register here.
Miami's PJ Library also hosts events throughout the year that offer young children and their parents a chance to explore their Jewish roots together. All of these events are free and open to the public.
The PJ Library is part of a national program founded in 2005 by the Harold Grinspoon Foundation. Miami's PJ Library chapter is funded by the Blank Family Foundation, started by one of Federation's founders, Sam Blank. It is being operated in partnership with a wide range of early childhood centers, Jewish community centers, synagogues and agencies who share the program's goal to reach as many children as possible.

Read our PJ Library FAQ section.

To search for upcoming PJ Library events, visit the Community Calendar.

More news and events for young families may be found at The Community Post. Check out our online newspaper today.
Upcoming Events
Sunday, January 18 at Noon
Story Time with a Russian Twist!
Books & Books in Bal Harbour
Please join PJ Library in Miami for our first ever Russian heritage program. This dual language event for families with children from 3 to 8 years old, will include a classic PJ Library storytelling, hands on Russian-inspired craft, and entertainment for your little ones in Russian. Books & Books newly designed store in the Shops of Bal Harbour is on the third floor. The Shops are located at 9700 Collins Avenue. For more information, please call 786.866.8572.

Join Other PJ Library Parents for a Special "Adults Only" Night on the Town: The Seven Year Itch @
Miami Theater Center
Thursday, February 19 at 6:30 p.m.

The Seven Year Itch, written by George Axelrod, made its Broadway debut in 1952. Miami Theater Center's production is being directed by Stephanie Ansin. At 6:30 p.m., there will be a pre-performance, private wine reception in the MTC SandBox. Join Rabbis Lauren and Jonathan Berkun from Aventura Turnberry Jewish Center as we examine "Relationships Through A Jewish Lens."

The performance will begin promptly at 8:00 p.m. There will be no late seating. Tickets are $35, but for this special evening only, please use code "mtcpj" for a 20% discount off the ticket price.

Space is limited, and the deadline to purchase tickets is January 20. Please visit www.mtcmiami.org to purchase your tickets with your discount code. For program information, please call 786.866.8572.

The Miami Theater Center is located at 9806 NE 2nd Avenue, Miami Shores.

LIMMUD Miami 2015
Sunday, February 22, 2015
8:00 a.m. to 6:00 p.m.

From the Hebrew "to learn", Limmud is a Jewish Learning Festival for everyone!

PJ Library families, please do not miss out on this broad-based day of learning and experiences for ages 3 to 103. Registration allows you access to all tracks - with special offerings for kids. Sessions include: PJ Library in Miami Presents..., The Musical Maggid, Jewish Life in Today's Diverse Family, Israeli Dancing, Culinary Midrash: Eating the Texts, The Gift of Challah, Shalom Stars!, and DIY Passover: Tips for Making Your Own Haggadah & Unique Seder. The complete schedule is available by clicking here. Space is limited and this year's event will sell out. To register, please use this link: PJLibrary/Limmud2015. See you there!

Limmud Miami 2015 takes place at FIU Kovens Conference Center located at 3000 NE 151 Street, North Miami.

Help Us Spread the Word About
PJ Our Way - The Next Chapter in PJ Library
PJ Our Way is the next chapter of PJ Library for kids ages 9 to 11.The Harold Grinspoon Foundation, the founder of PJ Library, has selected only 10 communities, including Miami, to participate in the launch of this pilot program. Just like PJ Library, this program is free and every Jewish child from 9 to 11 is eligible to sign up - even if you have never participated in PJ Library before! Unlike PJ Library, rather than receiving a specific book in the mail, kids can go to www.pjourway.org every month to choose the book they want to receive. If you have older children who have aged out of PJ Library, please visit PJ Our Way and enroll them. Spread the word - we have subscriptions for all of those who are eligible.



Click here to learn more about The PJ Library or contact us at PJLibrary@JewishMiami.org or 786.866.8572.
Subscribe to our e-newsletter.
View photos and videos from past events.
Visit our online group.