Free Jewish Books for Children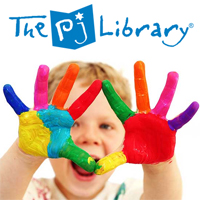 Thousands of Miami children can enjoy bedtime stories about Jewish values and traditions, thanks to the Greater Miami Jewish Federation's early childhood program called The PJ Library.
Named after the bedtime garb, The PJ Library aims to help families teach their children the tenets of Judaism through children's books.
Families who subscribe to The PJ Library open their mailboxes each month to find a brand-new book featuring a Jewish topic. The program is free for Miami-Dade County children up to the age of eight and allows youngsters to build their own Jewish library at home. Register here.
Miami's PJ Library also hosts events throughout the year that offer young children and their parents a chance to explore their Jewish roots together. All of these events are free and open to the public.
The PJ Library is part of a national program founded in 2005 by the Harold Grinspoon Foundation. Miami's PJ Library chapter is funded by the Blank Family Foundation, started by one of Federation's founders, Sam Blank. It is being operated in partnership with a wide range of early childhood centers, Jewish community centers, synagogues and agencies who share the program's goal to reach as many children as possible.

Read our PJ Library FAQ section.

To search for upcoming PJ Library events, visit the Community Calendar.

More news and events for young families may be found at The Community Post. Check out our online newspaper today.
Upcoming Events
Celebrate "Basel" with Bagels and Dreidels on Sunday, December 7 from 10:00 a.m. to Noon!
PJ Library in Miami and The Network Families with Young Children Invite You and Your Children to a Special Art-Inspired Breakfast Featuring a Lego Dreidel Project
As the art world descends upon Miami for Art Basel, bring your children and join PJ Library in Miami and The Network Families with Young Children in creating a special Chanukah masterpiece with LEGOS! Every child who is pre-registered will create a Lego dreidel that really works, receive Chanukah gelt, learn how to play the dreidel game and enjoy a yummy dairy breakfast. Join us in the boardroom at Greater Miami Jewish Federation.

Please RSVP in advance to guarantee your LEGO kit. Registration is $10 per child and includes the dreidel LEGO kit, gelt and breakfast. Adults are free and breakfast is included. Dietary laws observed. CLICK HERE TO RSVP.

For more information, please call 786.866.8572 or email PJLibrary@JewishMiami.org. Greater Miami Jewish Federation
is located at 4200 Biscayne Boulevard, Miami

Help Us Spread the Word About PJ Our Way - The Next Chapter in PJ Library
PJ Our Way is the next chapter of PJ Library for kids ages 9 to 11.The Harold Grinspoon Foundation, the founder of PJ Library, has selected only 10 communities, including Miami, to participate in the launch of this pilot program. Just like PJ Library, this program is free and every Jewish child from 9 to 11 is eligible to sign up - even if you have never participated in PJ Library before! Unlike PJ Library, rather than receiving a specific book in the mail, kids can go to www.pjourway.org every month to choose the book they want to receive. If you have older children who have aged out of PJ Library, please visit PJ Our Way and enroll them. Spread the word - we have subscriptions for all of those who are eligible.

Tuesday, November 11 from 7:00 to 8:30 p.m.
Dan Nichols in Concert at Temple Sinai!
Come enjoy a free outdoor concert by Dan Nichols and the eighteen. He is one of the most dynamic, influential and beloved Jewish musicians in North America. Dan's melodies have become an integral part of the spiritual and liturgical experience of countless individuals and Jewish communities. There will be food trucks on site starting at 6:00 p.m. For more information, please contact Veronica Evelson at 305.932.9010 or veronica.evelson@tsnd.org. Temple Sinai is located at 18801 NE 22 Avenue, North Miami Beach.

Friday, November 14 from 6:00 to 7:15 p.m.
Bet Breira Samu El Or Olom Young Family Shabbat
BBSOO invites you to come and join us for a Thanksgiving- themed Young Family Shabbat. We will enjoy a night of singing, prayer, and a dinner afterwards. The service at 6:00 p.m. is free and open to the community. If you are staying for dinner, there is a fee and you must RSVP by Wednesday, November 12 to Sarah at 305.595.3008 or sarahr@bbsoomiami.org. Bet Breira Samu El Or Olom is located at 9400 SW 87 Avenue, Miami




Click here to learn more about The PJ Library or contact us at PJLibrary@JewishMiami.org or 786.866.8572.
Subscribe to our e-newsletter.
View photos and videos from past events.
Visit our online group.