Free Jewish Books for Children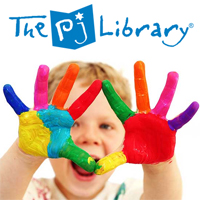 Thousands of Miami children can enjoy bedtime stories about Jewish values and traditions, thanks to the Greater Miami Jewish Federation's early childhood program called The PJ Library.
Named after the bedtime garb, The PJ Library aims to help families teach their children the tenets of Judaism through children's books.
Families who subscribe to The PJ Library open their mailboxes each month to find a brand-new book featuring a Jewish topic. The program is free for Miami-Dade County children up to the age of eight and allows youngsters to build their own Jewish library at home. Register here.
Miami's PJ Library also hosts events throughout the year that offer young children and their parents a chance to explore their Jewish roots together. All of these events are free and open to the public.
The PJ Library is part of a national program founded in 2005 by the Harold Grinspoon Foundation. Miami's PJ Library chapter is funded by the Blank Family Foundation, started by one of Federation's founders, Sam Blank. It is being operated in partnership with a wide range of early childhood centers, Jewish community centers, synagogues and agencies who share the program's goal to reach as many children as possible.

Read our PJ Library FAQ section.

To search for upcoming PJ Library events, visit the Community Calendar.

More news and events for young families may be found at The Community Post. Check out our online newspaper today.
Upcoming Events
The Power of Words
An Exclusive Evening for Adults
Wednesday, February 12 from 7 to 9 p.m.
Join with other PJ Library parents for a wine reception and private tour of acclaimed British artist Tracey Emin's current exhibit at the Museum of Contemporary Art in North Miami. A discussion and workshop focusing on the power of words in our relationships will be facilitated by Lark Keeler, Curator of Education and Rabbi Jonathan Tabachnikoff. Space is limited and pre-registration is required. $15 per person or $10 for MOCA members. This exhibit contains adult language and themes. Dietary laws observed. Please RSVP to PJLibrary@JewishMiami.org or 786.866.8572.
Sunday, February 9 at Two Locations
PJ Library Story Time at Books & Books
Valuing Hard Work!

At 10:30 a.m., the Gordon Schools of Beth David Congregation invite you and your little ones to join our early childhood teacher, Lindsey Immergluck, for a children's story hour featuring The Mitzvah Magician by Linda Elovitz Marshall. Books & Books in Coral Gables is located at 265 Aragon Avenue. For more information, please contact Books & Books at (305) 442-4408. At noon, Hebrew Academy is hosting the story time at Books and Books in Bal Harbour. Books & Books is located in the Shops of Bal Harbour on the second floor, 9700 Collins Avenue, Bal Harbour.

Community Kick-Off for a Book Exchange Program
Mingle and Menchie's in Aventura
Sunday, February 23 from 3 to 5 p.m.
Join with other PJ Library families at our community's first ever book exchange! Please bring up to three PJ Library books that your child has outgrown or that your family has received in duplicate. Books must have the PJ Library logo and be in good condition. You will be able to exchange a different book for each one book you "trade in." There will be tasty treats, cool activities, and a raffle. Menchie's frozen yogurt is kosher and non-dairy options are also available. For more information, please email us at PJLibrary@JewishMiami.org. Menchie's is located at 18839 Biscayne Boulevard, Aventura.



Click here to learn more about The PJ Library or contact us at PJLibrary@JewishMiami.org or 786.866.8572.
Subscribe to our e-newsletter.
View photos and videos from past events.
Visit our online group.