New Ambassador Program Empowers Students to Share Federation Messages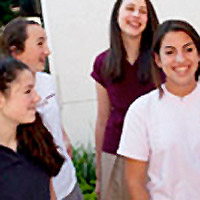 Tzedakah (social justice) and tikkun olam (repair of the world) are only concepts until educators and parents help bring these Jewish values to life. That's the thinking behind the new "Federation Youth Ambassadors" program, which connects students from five Miami-area Jewish day schools with the work of the Greater Miami Jewish Federation and its partner agencies.
Launched in October, the program is teaching important leadership skills while also enabling students to see firsthand how the Annual Federation/UJA Campaign supports a wide variety of vital programs and services throughout the Jewish community. Students from Hebrew Academy (RASG), Jacobson Sinai Academy Lehrman Community Day School, Scheck Hillel Community School and Temple Beth Am Day School are participating in the first two years of the program, with one or two Faculty Advisors from each school providing guidance.
The Ambassadors will meet several times during the school year to learn about the Jewish community and how the actions of many individuals and families contribute to tikkun olam. On November 15, for example, they will participate in a Federation "Mini-Mission," visiting several local institutions that receive funding from the Annual Federation/UJA Campaign. The Ambassadors will then share what they have learned and experienced with their schoolmates through presentations, articles in school newsletters, social media and other means.
The program will culminate in the week before Super Sunday, when each participating school will engage in activities to raise awareness and support for the Annual Federation/UJA Campaign.
On Friday, November 2, the Youth Ambassadors from Lehrman Community Day School – fifth-grade siblings Natasha and Joseph Gross – gave their first presentation to elementary school students, teachers and parents.
Click here to view of video of their presentation.
To learn more about the Federation Youth Ambassadors, contact Laura Guren Rodriguez at lrodriguez@gmjf.org or 786.866.8680.