Federation System Aids in Global Recovery From Recent Natural Disasters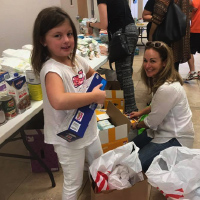 Following the catastrophic damage from Hurricane Maria in Puerto Rico and the earthquakes in Mexico, the Greater Miami Jewish Federation established emergency relief funds to support the Jewish and general communities affected by the disasters. Click here to make a donation to the Hurricane Maria Relief Fund and/or the Mexican Earthquakes Relief Fund. One hundred percent of funds will be directed to relief efforts in the affected areas.
Federation's network of local and international partners allows us to respond quickly and effectively to emergencies around the globe. In fact, Israeli search-and-rescue organizations were among the first on the ground following the disasters in both Puerto Rico and Mexico. Federation, in partnership with IsraAID, Israel's largest humanitarian and rescue NGO, is distributing clean water, relief supplies and medical and psychological help to children and families who have lost their homes. IsraAID team members are currently at work in Houston, the Florida Keys, Mexico and Puerto Rico.
Upon hearing of the catastrophic conditions in Puerto Rico and the Caribbean, the Federation system quickly procured 200 generators. Through local government contacts, the Greater Miami Jewish Federation helped identify flights to St. Thomas and Puerto Rico and made arrangements with Puerto Rico's Jewish community center and other local organizations to distribute these highly-necessary items.
Along with IsraAID's presence In Mexico, Federation's overseas partner, the American Jewish Joint Distribution Center (JDC), is working with CADENA and the Afya Foundation to assist with rescue efforts, and provide food, medical supplies and temporary shelter.
While the disasters in Puerto Rico and Mexico are the latest to hit the headlines, Federation continues to assist those in need following hurricanes Harvey and Irma as part of a nationwide effort organized by The Jewish Federations of North America. More than $15 million has been raised for Hurricane Harvey relief efforts through Federations, foundations and the Government of Israel and is already being put to work. Funds have been allocated for a variety of needs, including but not limited to providing temporary housing, food and cleaning supplies; establishing safe places and day camps for children so parents can focus on recovery and rebuilding; helping congregants of synagogues with catastrophic damage; and offering trauma support via telephone-based counseling sessions and in-person appointments with trauma and resilience specialists.
In addition to opening an emergency relief fund for those affected by Hurricane Irma, Federation's Jewish Volunteer Center (JVC), in partnership with our North and South Dade Branches, Jewish Community Relations Council (JCRC), Mishkan Miami, The Network and Repair the World mobilized hundreds of volunteers to serve more than 1,000 Miami-Dade residents from North Miami Beach to Homestead. Volunteers made sandwiches for the homeless population, packed meals and offered respite to vulnerable seniors and Holocaust survivors, provided hot meals, children's activities and gas cards to the migrant community in Homestead, among other projects.
Working together with our partner agency, Jewish Community Services of South Florida (JCS), Federation served even more members of our community. Only one week after the storm, more than 600 volunteers—many of whom were still without electricity themselves—gathered for the annual Milk & Honey program, where they packed and delivered Rosh Hashanah food baskets and holiday greetings to homebound seniors.
Also in conjunction with JCS, Federation is delivering grocery cards to low-income families and older adults to help replenish food lost during the storm. Federation is also offering one-time assistance to relieve financial strain due to evacuation or recovery efforts following Irma.
We are thankful to all those who have already donated to the Hurricane Irma Relief Fund, which has raised approximately $50,000. Help is still needed. To donate now, click here.