Ayalim – A New Zionist Model for Israel's Growth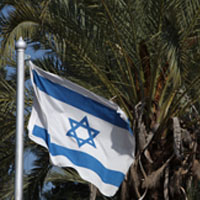 After serving in the army, many young Israelis decide to travel the world and then continue their education at a university. But for one group of young Israeli army veterans, a devastating terrorist attack on their friends changed their plans. To honor their friends' memory, they created Ayalim, a student volunteer village that has revived the Zionist model of community-building in the Negev and Galilee.
Through Greater Miami Jewish Federation funding, Federation's overseas partner, the Jewish Agency for Israel, is helping the Ayalim Association nurture values such as Zionism, young entrepreneurship and the bonds between people and land and between individuals and society – all in a way that fits the 21st century. Founded in 2002, the Ayalim Association today has more than 600 participants, living and volunteering in 13 student and entrepreneur villages throughout the Negev and Galilee.
"We had two goals," said Dany Glicksberg, Deputy Director of Ayalim and one of the organization's founders, "to bring young, dynamic people to settle in the Negev, and to promote social activism among these new community members to help the surrounding Negev towns."
One of the Negev communities benefiting from the Ayalim vision is Miami's partnership city of Yerucham. Students living in Yerucham's Ayalim Student Village volunteer to help with more than 300 local children, initiating age-appropriate activities and taking part in educational, social and cultural programs.
In return for academic scholarships and subsidized housing in the villages, each Ayalim participant volunteers 500 hours annually with children in development towns and distressed neighborhoods, and takes part in the Association's special projects, with the understanding that the projects' success depends on a combination of individual needs and national objectives.
"Ayalim creates a framework for young people by connecting them to their roots, while also securing the future of Israel through development of important parts of Israel – the Negev and Galilee," said Raquel Scheck, Chair of the Israel & Overseas Committee of the Greater Miami Jewish Federation. "We are proud to have the opportunity to support this important initiative, which benefits so many."
To learn more about the Ayalim Association and other Federation-funded programs in Israel, contact Federation's Israel & Overseas Department at IsraelOverseas@JewishMiami.org or 786.866.8445.