Federation Collecting Funds in Response to Hurricane in Haiti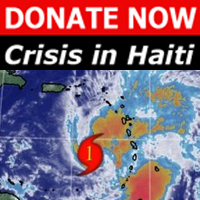 As part of the Jewish community's response to the effects of Hurrican Tomas in Haiti, the Greater Miami Jewish Federation is collecting funds to provide immediate humanitarian aid to earthquake victims and their families. One hundred percent of all contributions to this fund are being allocated directly to the relief effort.
Make an online financial contribution now.
Donation checks with notations of "Haitian Relief" should be mailed to the Greater Miami Jewish Federation, 4200 Biscayne Boulevard, Miami, FL 33137. For more information, call 305.576.4000.




Funds Already at Work
With hundreds of donors joining in the Jewish community's response to the devastation caused by the massive earthquake of January 12, 2010, Federation has been able to raise vital funds to provide immediate emergency assistance for those most in need. Already, tens of thousands of dollars from Federation's Haiti Relief Fund have been transmitted to Haiti through Federation's trusted, longtime overseas agency, the American Jewish Joint Distribution Committee (JDC). JDC is working with numerous organizations on the ground in Haiti, wherever they are needed.