Federation's Youth Ambassadors Get Ready for Super Sunday!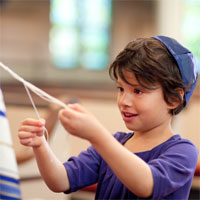 In preparation for Super Sunday on Sunday, March 10, the Greater Miami Jewish Federation's Youth Ambassadors are planning, collecting and rallying at their schools for Miami's largest annual Jewish community phonathon.
Federation's Youth Ambassadors program connects students from five Miami-area Jewish day schools with the work of Federation and its partner agencies and organizations. The program teaches important leadership skills while enabling students to see firsthand how the Annual Federation/UJA Campaign supports a wide variety of vital programs services throughout the Jewish community.
At each of the participating schools, the week before Super Sunday has been dubbed "Federation Week," where the students, led by their Youth Ambassadors, will participate in an array of activities that support the Federation Mission. Dollars raised will help to fund 106 programs and services in Miami, in Israel and in more than 70 other countries worldwide.
At Lehrman Community Day School, Youth Ambassadors have set up a Federation Question of the Day box, and the class that answers the most questions correctly during the week will get a reward. Every student is asked to put $1 in a special tzedakah box for Federation and posters are being hung around the school promoting Super Sunday. Students will also be wearing stickers on the Friday before Super Sunday, to remind their parents and friends of the upcoming event.
Parents and families with students at Beth Am Day School have been getting notices about Super Sunday through the weekly school newsletter, "Chai Lights," encouraging them to attend and volunteer at the annual event. Student council members are speaking to the entire student body during Friday's Kabbalat Shabbat assembly, hoping to get them involved as well.
At Scheck Hillel Community Day School, students are continuing their food collections for the Jewish Community Services Kosher Food Bank. They will set up a special table outside the cafeteria where students can sign up to volunteer to make calls on Super Sunday.
Students at Jacobson Sinai Academy will do a 5-mile "Walk for Israel," and are asking people to sponsor them at $1 per mile. The Youth Ambassadors are hosting two dress-down days where students can wear jeans for $3 and t-shirts for $2 (in place of their regular school uniform). The money raised through all of these initiatives will benefit the Annual Federation/UJA Campaign.
On Sunday, March 3, students from Hebrew Academy (RASG) held their annual Beach Bash Phonathon, where they raised nearly $54,000 for the Federation's Annual Campaign. Throughout the week, students at Hebrew Academy will host a food drive, make Passover cards for seniors who live in Federation-sponsored housing and raise money for the American Jewish Joint Distribution Committee's "Hibuki" doll project. Students who participate in Super Sunday events can wear school t-shirts instead of their regular school uniform shirts as a symbol of appreciation for the funding Federation provides to the school.
Mytyl Simancas-Bister, who is chairing Super Sunday along with her husband and their three children, suggested the Youth Ambassadors and their fellow students will also be making practice calls to people they know so they will be more comfortable on Super Sunday. The Youth Ambassadors were recently taught how to fill out a pledge card, and were given a stack so they can show their classmates and friends how to fill one out.
Federation's beneficiary agencies, day schools and Miami-area synagogues are also eligible for the Super Sunday Incentive Program. The program allots them 50 percent of any eligible gift raised by that institution's representatives on Super Sunday. Also, the agency, school or synagogue with the most pre-registered Super Sunday volunteers will receive an additional $1,000 just by attending.
To learn more about the Federation Youth Ambassadors, contact Laura Guren Rodriguez at lrodriguez@gmjf.org or 786.866.8680. To volunteer or for more information on Super Sunday, click here.