Super Sunday Goes Social in 2013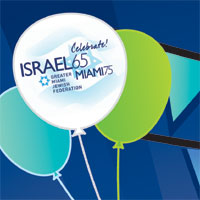 This year, Miami's largest annual Jewish community phonathon will be more social than ever, as the Greater Miami Jewish Federation celebrates its 75th and Israel's 65th birthdays with tweets, hashtags, check-ins and status updates at Super Sunday.
Join volunteers of all ages on Sunday, March 10 from 9 a.m. to 9 p.m. at Federation's Stanley C. Myers Building, 4200 Biscayne Boulevard. Share Miami and Israel's milestones by making calls to help support the 2013 Federation/UJA Campaign, which provides a vital lifeline of programs and services for Jewish people in Miami, in Israel and in more than 70 other countries around the world.
Volunteers are asked to bring their smart phones and tablets to not only make fundraising calls, but to also send out tweets on Twitter, pics on Instagram, videos on YouTube, photos on Flickr and updates on Facebook.
While supporting the Annual Campaign, volunteers also can raise money for local Federation-funded agencies, synagogues and day schools by signing up for the Super Sunday Incentive Program at check-in. Any Miami-Dade County synagogue, agency or day school that receives an allocation from the Federation/UJA Campaign can receive 50 percent of any eligible gift raised by that agency's representatives on Super Sunday. Also, the organization with the most pre-registered Super Sunday volunteers will receive an additional $1,000 just by attending!
Super Sunday, a decades-long tradition for families, is being chaired by the Bister-Simancas family — Mytyl, Sergio, Ari, Danny and Yael. The Training Vice Chair is Marilyn Myman and the Youth Activities Vice Chair is Judy Kapiloff. The North Dade Vice Chair is Joshua Kaplan; the South Dade Vice Chair is Andrew Wolf; and the Miami Beach Vice Chair is Dan Berkowitz.
Registration for Super Sunday is closed, but walk-ins are welcome. To make a gift now, click here.