Jewish Museum of Florida-FIU Preserves Our History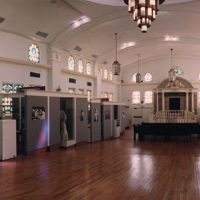 In addition to strengthening our Jewish community for tomorrow, Federation's Annual/UJA Campaign also helps support institutions that preserve Miami's Jewish history, like the Jewish Museum of Florida-FIU (JMOF-FIU). JMOF-FIU is the only museum dedicated to telling the story of more than 250 years of Jewish history in Miami. Housed in two restored historic buildings that once served as synagogues for Miami Beach's first Jewish congregation, the museum is free to the community on Saturdays, allowing Miami Beach's Orthodox population to enjoy the exhibitions during Shabbat.
Susan Gladstone, JMOF-FIU Executive Director has "great respect for the history in our core exhibit and the beautiful traditions on display throughout the buildings," both of which are included on the U.S. National Registration of Historic Places. In addition to the museum's core exhibit, there are three rotating galleries. "In an effort to stay relevant, we curate collections that reflect current events and what we, as a society, are going through," said Gladstone, "such as The Sexuality Spectrum, which is currently on display," and explores the evolving social and religious attitudes toward sexuality through the work of more than 50 international contemporary artists.
Summers generally include a show focused on a Miami celebrity, which help attract locals. Past exhibitions have honored Irene Williams, the Queen of Lincoln Road and Charlie Cinnamon, Miami's legendary — and recently deceased — arts and entertainment publicist. "We also have a number of popular annual events like our Klezmer concert every Hanukah, the Breaking the Glass Ceiling Awards Luncheon, recognizing impactful Jewish women around Florida, and Tasteful Traditions, our food and wine fundraiser where we work Chef Allen Susser and four other popular chefs in the area."
JMOF-FIU also makes a concerted effort to include programming for children and young adults. A number of Miami's Jewish day schools visit throughout the year as an innovative way to include Holocaust education in their curriculum, a Florida school mandate. Additionally, the museum works with PJ Library, a gift of the Greater Miami Jewish Federation made possible by the Harold Grinspoon Foundation and the Blank Family Foundation, which sends monthly, free Jewish books to children six months to eight years old. "We're so grateful for the support of Federation," said Gladstone, "be it through partnering with PJ Library or general funding," which allows us to remain focused on the big picture."