PJ Goes to School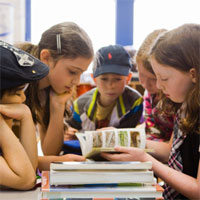 Once upon a time there was a remarkable family engagement program that brought free, high-quality Jewish books and music each month into the homes of thousands of children all across the Miami area, thanks to the Greater Miami Jewish Federation and The Blank Family Foundation. That program is called PJ Library.
One day, in the summer of 2011, PJ Library decided it wanted to go to school so it could also bring its stories of Jewish values and holiday traditions to children in their classrooms. Thanks to the generosity of The Harold Grinspoon Foundation, PJ Library Miami was able to become one of the first PJ Goes to School, or PJGTS, programs in the country.
PJGTS enables teachers in Jewish early childhood institutions to introduce a new book each month to their classes. Each classroom receives two copies of the book, plus teaching guides designed specifically for that book. The school directors and teachers incorporate these tools into their existing curriculum.
After its pilot year, local participation in PJ Goes to School grew and the program is now in 16 Jewish early childhood institutions in Miami, reaching about 700 students:
-Bet Breira Samu-El Or Olom/ECE
-Bet Shira Early Childhood Center
-Bronson Early Childhood Center/Michael-Ann Russell Jewish Community Center
-Gordon Schools at Beth David Congregation
-Glen Greenstein ECE at Dave and Mary Alper Jewish Community Center
-Hebrew Academy (RASG)
-Jacobson Sinai Academy ECE/Temple Sinai of North Dade
-Joni & Stanley Tate Early Childhood Center/Temple Israel of Greater Miami
-Lehrman Community Day School
-Margaux Early Childhood School/Temple Judea
-Suzy Fischer Early Childhood Academy/Hochberg Preparatory
-Tauber Academy ECE/Aventura Turnberry Jewish Center
-Temple Beth Am Day School
-Temple Beth Sholom Foundation School
-Temple Menorah Jewish Montessori
-The Gan (Chabad Montessori)

Twice a year, the directors and lead teachers from the participating schools gather for professional development workshops and are given training on using the books as a means of enhancing literacy and engaging families in the learning process.
Many of the students at these schools already receive PJ Library books in their homes, however the value of reading them in both locations is immeasurable.
"What happens during story time at school is very different from what happens during story time at home. It's very different when a parent sits and reads a book than when a teacher is reading to the whole class," PJ Library Committee Member Clara Bicas said.
The Director of the PJ Goes to School Program, Lisa Litman, develops resource guides that work with the books. These lesson plans are an enhancement to what is already being done in the classrooms and uses the creativity and spirit of each teacher to present the stories to the students. The guides weave Jewish values throughout each school's existing programs and support schools as they inspire Jewish conversations in the classroom and in the home.
PJ Library, a program of the Greater Miami Jewish Federation, is funded in partnership with The Harold Grinspoon Foundation and made possible for Miami's community thanks to the generosity of the Blank Family Foundation.
To find out more about PJ Library, visit JewishMiami.org/PJLibrary, or call Laura Goldberg at 786.866.8572. To read more about PJ Goes to School, click here.