Volunteer Opportunity Encourages Love of Reading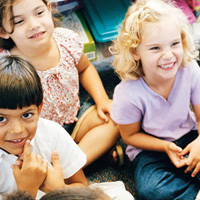 Discover a fun, meaningful way to spark the imaginations of Miami pre-schoolers. The Jewish Volunteer Center (JVC) of the Greater Miami Jewish Federation is recruiting volunteers for the United Way of Miami-Dade's popular ReadingPals literacy program.
ReadingPals sends adult volunteers to early education classrooms across Miami-Dade, where they spend one hour each week reading to children. Because many of these youngsters are not yet reading on their own, ReadingPals volunteers are often among the first people who introduce them to the joys of reading and learning.
The 24-week program begins October 15, 2012 and concludes May 10, 2013. Volunteers are required to complete a background check and attend an orientation session, which will provide the tools and training to equip them to become successful and effective readers.
A special Jewish community orientation will be held at the Federation's Stanley C. Myers Building, 4200 Biscayne Boulevard, on Wednesday, October 3, from 5:30 to 7:00 p.m. To register, or for more information on other ReadingPals orientations, please contact Jewish Volunteer Center Director Lori Drutz at 786.866.8414 or Volunteer@JewishMiami.org.
To find out more information, please click here.
You can also watch a brief video here.
The mission of the Jewish Volunteer Center (JVC) of the Greater Miami Jewish Federation is to partner with Jewish and communal organizations in Miami to create a culture of volunteerism by providing a central clearinghouse for volunteers in the Miami Jewish community. Guided by the Jewish values of chesed (loving kindness), tzedakah (social justice) and tikkun olam (repair of the world), the JVC works to strengthen the entire community through high-quality, hands-on volunteer projects and service learning initiatives.