Volunteer Opportunities Abound Through the Jewish Volunteer Center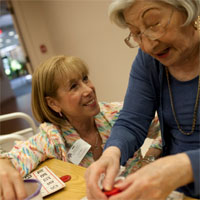 While Miami's Jewish community greatly depends on financial support to sustain its network of agencies and organizations, volunteers giving of their time on an ongoing basis are equally as needed.
The Jewish Volunteer Center of the Greater Miami Jewish Federation, the central clearinghouse for volunteerism in Miami's Jewish community, is a resource for individuals, families and groups who would like to get involved and help local nonprofit organizations.
"Many people know about the large-scale, volunteering events that the Jewish Volunteer Center puts on each year, such as Jewish Volunteer Day on December 25, and the Everything But the Turkey event that takes place around Thanksgiving, but there are so many other amazing opportunities throughout the year that really mean so much to so many people," Jewish Volunteer Center Chair Mark Kravitz said.
There are many retirement and nursing homes in Miami-Dade that are looking for people to come and visit with their residents. Volunteers are needed to spend time at senior centers either entertaining residents by playing guitar, hosting a magic show or simply reading the newspaper or playing a round of checkers.
Many retirement homes are also looking for people to help lead Shabbat services by reciting blessings and lighting candles on Friday nights, or leading a minyan Saturday morning.
College or high school students looking for community service hours, or adults with some time on their hands in the afternoons are needed as tutors at many of Miami's Jewish day schools and Jewish Community Centers, and at secular schools and after-school programs.
"Helping a student with their homework or working with them on their reading or math skills, or any subject matter where they may be falling behind is such a beautiful mitzvah—you're helping them and the future of our community," Kravitz said.
Volunteers are also needed to serve meals at any of the congregate meal sites throughout the county, such as Federation Gardens, the Michael-Ann Russell JCC and Point East in Aventura, among others, where many seniors arrive by bus for what is most likely their one hot meal of the day.
People are also needed to prepare and serve meals to families staying in Miami while their children are receiving medical care at Jackson Memorial Hospital or Children's Hospital. Often, hospitals are looking for volunteers to visit with patients, either bringing them books or magazines, or setting up in common areas to play board games.
In addition to all of these worthy opportunities, volunteers are also needed to:

-Act as an advisor to teens participating in BBYO clubs.
-Buy and deliver groceries for people that aren't able to leave their homes.
-Docent at one of Miami's many museums or usher at a ballet or concert at one of the city's fine arts centers.
-Help sort and organize donations at the Community Closet in North Miami Beach.
-Sort, organize and stock shelves of food at the JCS Kosher Food Bank.
-Answer phone calls, prepare mailings, sort filing or perform other administrative tasks at nonprofit organizations looking for clerical assistance.
Even still, there are more things people can do to help in the community. Anyone with a unique volunteer idea or project in mind should call the Jewish Volunteer Center for assistance in executing their plans and to find the volunteer experience that best fits their personality, skills and schedule. Contact Laura Guren Rodriguez, Director of the Jewish Volunteer Center at 786.866.8680 or email Volunteer@JewishMiami.org.