Women's Amutot Initiative
The Women's Amutot Initiative allocates funds from the Greater Miami Jewish Federation's annual campaign to organizations in Israel that empower women to improve Israeli society through social, economic, religious, and political equality. Click here to read more about the Women's Amutot Initiative.
The Women's Amutot Initiative was established in 2003 to focus exclusively on the needs and welfare of women and girls in Israel, utilizing strategic grant making and applying a gender lens in its grant making. The committee will consider funding projects that are consistent with its mission and promote social change in Israel by addressing one of the priority areas below:
• Economic Empowerment
• Social Empowerment
• Protection Against and Prevention of Violence
• Leadership Development
The committee is responsible for reviewing the applications and allocating grants to registered Israeli not-for-profit organizations that correspond to the Women's Amutot Initiative's priorities and guidelines. Organizations must have strong professional staff, focus on women or girls, be fiscally responsible providing programmatic and budgetary reports, have evaluation and assessment procedures in place, have other means of financial support, and compliment the Mission of the Greater Miami Jewish Federation.
Links
About the Women's Amutot Initiative
Israel study Trip
Download New Committee Member Application
Photo Gallery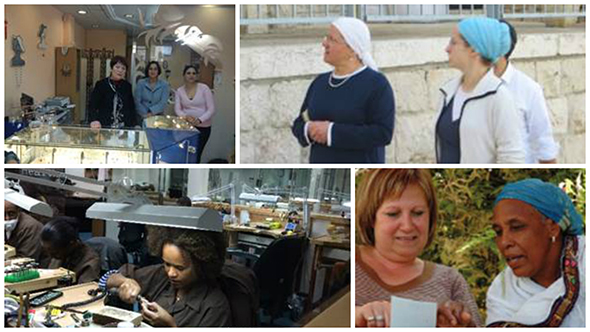 Women's Amutot Initiative – 2018 Grants
Jewish Women's Funding Network Collaborative Grant: Gender Perspective on Contracted Labor
$5,000
To address the issue of contract employment and develop local and national strategies prior to the 2018 municipal elections.
Leadership Development
Ma'ase Center Association: Ne'urim Leadership Program
$7,500
The Ne'urim program builds community involvement and leadership for 80 young Druze women. These women will volunteer in 14 Druze communities serving as mentors and tutors for 3,500 Druze children and teens that participate in youth activities provided by Ne'urim Centers. The program is designed to instill leadership skills, self-efficacy, social engagement, and economic security.
Van Leer Institute: The Center for the Advancement of Women in the Public Sphere (WIPS): The Gender Index
$13,800
Updates and expands the WIPS's Gender Index to help facilitate the monitoring of gender inequality in Israel and to promote policy change based on the Index outcomes. The Gender Index is an online analytical report designed to provide crosscutting data on the position of women in Israeli society using 73 key indicators across 12 domains, representing everything from family status to participation in public life. The Index targets policymakers and civil society actors and is aimed at facilitating informed decision-making and activity to promote gender equality in Israel.
Village Way: Israelite Young Women's Leadership Program for immigrant Youth (Mechina)
$8,000
Outdoor education empowerment activities on a transformative gap-year program for 35 immigrant young women ages 18-20 who are graduates of high schools and youth villages. Provide these young women, with opportunities to improve self-image, confidence, and leadership skills in preparation for their mandatory military service. The Mechina is a 10-month (September – June) residential, educational program that provides interactive workshops, community service, seminars, field trips and hikes.
WePower: Gender Equality in the Negev toward the 2018 Elections
$19,073
To narrow the gender gap in the Negev by supporting a comprehensive platform of leadership programs for women from all sectors in the Negev, in preparation for the upcoming municipal elections in 2018. Women hold only 12% of the Negev's decision-making positions in local authorities. WePower will operate a comprehensive leadership-training platform through a variety of revitalized and innovative programs.
Protecting Women against Violence
Association of Rape Crisis Centers: Changing Laws, Changing Lives
$20,900
A nationwide program to improve services offered to victims of sexual assault and to promote social change on a national level. The program includes educating professionals such as Knesset members, physicians, police officers, prosecutors, judges, and others who work with sexual assault victims. Provides women with free direct services in the justice process, including legal counsel to 200-300 victims a year and direct legal representation in 2-4 precedent-setting cases per year; its Hotline receives 40,000 calls annually.
Itach Maaki: From Silence to Security-Raising Voices of Bedouin Women to Combat Violence
$12,000
Promotes safety and independence of Bedouin women living in the Negev and helps them combat violence. Approximately 90% of Bedouin women served complain about physical and/or sexual violence by their husbands and other family members. Through programs, influences public authorities and bodies to take an active role in protecting Bedouin women.Aims to develop an activism group for Bedouin women via training and workshops, assist @10 individual victims of violence per month, advocates with the local and regional police and with national policy making bodies to increase the enforcement and provision of welfare services.
Maslan: Emergency Support Line for Domestic Violence and Sexually Abused Individuals
$15,100
Supports the Emergency Hotline, a 24-hour service for victims of sexual and physical violence. The hotline is staffed by 261 professionally trained volunteers that offer emotional and practical support and guidance in eight languages.
Tahel (Crisis Center for Religious Women): Production of Movies for Sexual Abuse Prevention Workshops
$15,100
To produce two films (one for young women entering military or national service after high school, one to prevent sexual harassment in the workplace) to be used in workshops for young adults and educators to prevent sexual abuse in religious/ultra-Orthodox communities. Tahel's educational workshop program enables communities to become aware of the problem of sexual abuse and work towards preventing future abuse. The first step is education and creating the appropriate educational tools. Films have been proven to be effective in promoting learning and change in behavior. To facilitate their use throughout the world, the films will be in English and Hebrew and available online.
Women's Spirit: Breaking the Bind
$10,800
To advocate change in Israeli policies/laws that undermine financial security and safety of violence survivors. The project advocates change in fundamental Israeli policies and laws that undermine, destabilize and weaken women's financial security and personal safety, especially survivors of violence. Women's Spirit programs are based on the notion that financial independence is an inseparable part of a woman's wellbeing. Women's Spirit policy and advocacy efforts include initiating and developing effective partnerships with policy makers in the government and civil society organizations.
Social Empowerment
Achoti: House of Achoti
$10,000
Provides women who suffer from violence, exploitation, and abuse a multi-cultural education, information and aid center that offer support, legal advice, workshops, and tools to develop activism skills. Enables women to engage in dialogue on many levels, and helps them remove themselves from exploitative and abusive situations.
Center for Women's Justice: Developing and Enhancing legal Tools for empowering Women
$23,400
To bolster strategic litigation that pushes back against harmful rabbinic court practices and policies, such as blacklisting and the issuing of arbitrary regulations, using civil court precedents as pioneered in our "torts for get refusal" model.
Colot Banegev: Siket-Support for Ethiopian-Israeli Women
$9,500
To promote accessibility to higher education and employment among young Ethiopian-Israeli women in the Negev by reducing existing gaps in Israeli society by assisting 100 Ethiopian-Israeli women pursuing a first degree at academic institutions in the Negev.
Israel Women's Network: Legal Hotline for Ultra-orthodox Women
$9,600
To increase awareness, access and availability of legal rights protection for ultra-orthodox women. Provide 500 women with free legal services, consultation and representation.
Jasmine: Izun (Balance)-Promoting Women's Leadership
$12,500
Train, mentor and empower women to serve as directors, to increase the number of women on boards of directors, and in key decision-making positions.
Mavoi Satum: The Legal and Social Justice Project for Mesoravot Get
$17,000
To provide women who are trapped in unwanted marriages with expert legal representation both in the civil and rabbinical courts, while at the same time providing individual psychotherapy and empowerment opportunities in order to help each woman rebuild her life and create a new future.
Rackman Center: Impact – The Project for Legal & Social Change for Women
$18,000
To make real, long term social change for women all over Israel through changing legislation and assisting individual women with difficult family law cases.
Shatil: Strengthening, Mobilizing, and Coordinating Women's Efforts
$20,700
To strengthen the organizational effectiveness and leadership capacities of Israeli women's organizations, as well as assist activists and foster policies and legislation that promotes the rights and well-being of women, with a focus on promoting women within Israel's religious establishment and public housing for women.
Yedid: Single Mothers for Change
$6,200
Promote local and national attention to issues facing single mothers through making Yedid's annual conference into a nationwide movement.
Economic Empowerment
AJEEC-NISPED: Foundations for Women's Success-A Pre-employment Program
$16,500
Pre-employment training program expansion for women from the most disadvantaged sectors of the Negev Bedouin community. Equips women with the skills necessary to enter the labor force. Participants complete a series of trainings, followed by assistance in making the transition to the next step.
Atid Bamidbar: Sewing Their Way to Independence – Business Training for the Women of Rachma
$9,500
To provide business training for 15-18 Bedouin women from Rachma, graduates of the sewing course, to enable them to acquire and use business skills to sell their sewing products and generate income for themselves and their families.
Economic Empowerment for Women: A Business of One's Own
$11,000
A comprehensive approach to helping 40 low-income and marginalized women reach economic independence through self-employment. The program includes meetings with empowerment and business facilitators, technical assistance and mentoring for women, as well as personal consulting.
ITWorks: Technological Careers for Women In the Negev
$10,000
Training and job placement assistance in the high-tech industry to 20-25 women from diverse backgrounds living in the Negev region. To train young women at risk in a sought-after technological profession, raise their employability through dedicated workshops that help them secure well-paid work that promises dignified careers and financial security.
KIEDF (Koret): Scaling Up-Expanding Microenterprises
$12,300
To help clients strengthen their management capabilities, develop places of employment, and scale up the size of their businesses.