Federation's 79th Annual Meeting to Honor and Elect Community Leaders
Hundreds of people will gather to recognize and thank exceptional individuals for their service to the Greater Miami Jewish Federation and Miami's Jewish community – and elect and install new leadership – at Federation's 79th Annual Meeting on Wednesday, June 7 at Jungle Island, 1111 Parrot Jungle Trail, Miami.
STANLEY C. MYERS PRESIDENTS' LEADERSHIP AWARD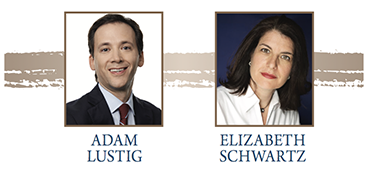 Adam Lustig
Adam Lustig has demonstrated an abundance of leadership skills and an enthusiasm for community involvement since he first became involved in the Greater Miami Jewish Federation. Today, he serves as Chair of Federation's Attorneys' Division, is a member of Federation's Board of Directors and Executive Committee, and serves on the Human Resource Development Committee.
A Past Vice Chair of the Real Estate Mission and Past Chair of Sunset Over Miami, Adam rose through the leadership ranks of The Network, Federation's under-45 division, where he was Co-Chair, Education Chair, and Ben-Gurion Society Committee member. Adam is currently a member of The Jewish Federations of North America Young Leadership Cabinet, and is a graduate of Federation's Olam Leadership Development Program and a past recipient of the Sandra C. Goldstein Young Leadership Award. Adam participates in AIPAC's Washington Club and Miami Real Estate Division, and supports Hillel at the University of Miami and the United Way of Miami-Dade.
Adam is attracted to social action by a personal desire to make a difference in the quality of Jewish life today and to set an example for future generations of young Jews. "Beyond the tremendous friendships and relationships that I have made by investing time in community involvement, it is important for me to set a good example for my children," he says.
Adam is a partner in the Real Estate Group of the Bilzin Sumberg law firm. He also is Chair of the Miami-Dade Committee of the International Council of Shopping Centers. He, his wife, Chavi, and their three children – Mara, Jordyn and Evan – live in Weston and are members of B'nai Aviv.
Elizabeth Schwartz
Elizabeth Schwartz is a persistent defender of equality and individual rights, as evidenced by her volunteerism and professional pursuits. She is a member of the Greater Miami Jewish Federation Board of Directors, serves as Co-Chair of its Jewish Incubator Grants Committee and is a member of its Planning & Distribution Committee. Elizabeth previously served on its Miami Beach Board, Jewish Engagement Commission and Women's Philanthropy Executive Committee. She has participated in the Professional Advisors Council of The Foundation of the Greater Miami Jewish Federation, and has been a Women's Philanthropy Lion of Judah Event Chair. She also is an active member of Temple Israel of Greater Miami and is involved with its Narot Endowment Fund Board.
The daughter of prominent community Federation leaders and philanthropists Maxine and the late Kenneth Schwartz, z"l, Elizabeth proudly maintains her family's legacy of pursuing social justice for those in need and performing community service. "The basic concepts of being B'tzelem Elohim (in G-d's image) and pursuing Tikkun Olam (repair of the world) were ingrained in me long ago," she says. "It is the great privilege of my life to use my skills to do good for others."
A nationally recognized advocate for the legal rights of the lesbian, gay, bisexual and transgender (LGBT) community, Elizabeth's law firm works with straight and gay clients in matters of family formation (adoption, insemination, surrogacy, nuptial agreements) and dissolution, estate planning and probate. Elizabeth served on legal teams challenging Florida's bans against LGBT people marrying, adopting and getting birth certificates issued fairly. She is the author of Before I Do: A Legal Guide to Marriage, Gay & Otherwise. She lives in Miami with her wife, Lydia Martin.
ROBERT RUSSELL FELLOWSHIP AWARD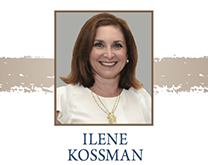 Ilene Achenbaum Kossman
Ilene Achenbaum Kossman's participation as an active Jewish community volunteer spans generations, and is infused with an appreciation for the role that Federations play in the lives of Jews in need at home and abroad. She has been a devoted supporter of Greater Miami Jewish Federation Women's Philanthropy for 23 years. A current member of the Women's Philanthropy Executive Board, Ilene is its Incoming Campaign Chair after serving as Major Gifts Chair. She previously served Women's Philanthropy as Vice President of Education and Leadership, Vice President of Outreach and Development, Learning Series Chair, and President of its South Dade Board. As one of the first members of Federation's Women's Amutot Committee, she has worked for 14 years on the committee to directly fund NGOs that improve Israeli society by helping vulnerable Israeli women and children. She also has lobbied in Washington with Federation's Jewish Community Relations Council.
Ilene's appreciation of Federation is deeply linked to the assistance provided to her grandmother many years ago by the Jewish Federation of Greater New York after she became a widow at a relatively young age. In addition, Ilene is enthusiastic about the diverse role Federations play. "Federation takes care of so many people," she says. "The more that I have learned, the more passionate I have become."
A former teacher at Temple Beth Am Day School, Ilene volunteers at the Linda Ray Intervention Center, working with at-risk preschoolers. She and her husband, Murray, live in Pinecrest and are members of Temple Beth Am. Their four grown children – Jared, Ryan, Scott and Arielle – live in New York.
SANDRA C. GOLDSTEIN YOUNG LEADERSHIP AWARD
Larry Bassuk
Larry Bassuk believes in the importance of leadership development as a cornerstone of keeping our Jewish community strong and vibrant. He is Co-Chair of The Network, the Greater Miami Jewish Federation's under-45 division, where he has been an active leader for many years, holding various positions, including Campaign Chair. A graduate of Federation's Olam Leadership Development Program, Larry invested significant energy in The Network's Leadership Development Institute, leading that program for two consecutive years. He also is a member of the Federation Executive Committee and Board of Directors, serves on the Attorneys' Division Board, and is a past member of the Sunset Over Miami Committee. Additionally, he is enthusiastically involved in the Miami Chapter of AIPAC.
Larry's commitment reflects his deep sense of personal responsibility to serving those in need. "I could never take for granted our collective duty to nourish this thriving, caring and organized Jewish community," he says.
A partner in the law firm of Leto Bassuk and President of Level Insurance, Larry lives in Miami Beach with his wife, Jerri, and two sons, George and Jordan.
Alexandra Lehson
Alexandra Lehson is a passionate advocate of social action who dedicates her time to serving others. She is currently the Campaign Chair and an Executive Committee member of The Network, the Greater Miami Jewish Federation's under-45 division, and has accepted the position of Co-Chair of The Network for 2017-2018. Alexandra is a member of The Jewish Federations of North America National Young Leadership Cabinet, where she is currently Co-Chair of her class and will serve in the coming year as Co-Chair of the Social Action Committee.
Alexandra has been active in the pro bono legal movement to secure reparations for Holocaust survivors. She served The Network as Co-Chair of Outreach and Education and as a founder of the Social Action Network, a volunteer group for young professionals. Alexandra is a member of Federation's Jewish Volunteer Center Committee and is a graduate of the Olam Leadership Development Program.
Alexandra credits her commitment to Jewish community activism to her family. "My family instilled a strong appreciation of volunteer work in me at a young age," she says. "It's something I've always enjoyed and it really helps put life into perspective."
Alexandra is a partner in the Real Estate Group of the Bilzin Sumberg law firm and a resident of Miami Beach.