Women's Philanthropy Celebrates Leadership at Annual Meeting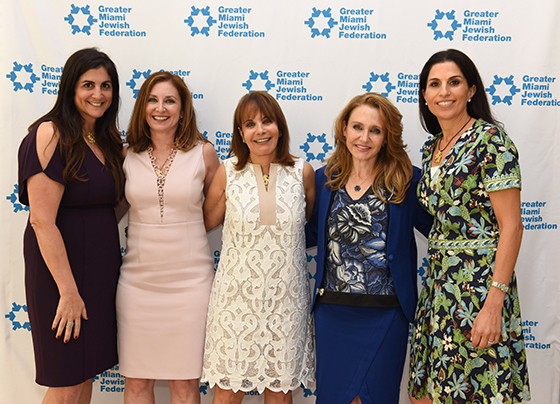 Women's Philanthropy of the Greater Miami Jewish Federation held its Annual Meeting and Installation Brunch on Wednesday, May 17, a meaningful and inspiring event at The Sacred Space. The event celebrated the achievements of the outgoing Board members and honored Sheree Savar, who finished her term as Women's Philanthropy President. Welcome and mazel tov to Sara Bejar, incoming President, and Ilene Kossman, Campaign Chair, and to all the Executive and Constituent Area Boards who were installed by past President Elise Scheck Bonwitt. Guest speaker Dr. Felicia Knaul, Director of the University of Miami's Institute for the Advanced Study of the Americas, addressed the crowd and shared how being the daughter of a Holocaust survivor guides her life's work and passion.
During her farewell speech, Sheree Savar enumerated the impressive accomplishments of Women's Philanthropy over the past two years, including a Women's Event featuring Emmy Award-winning Actress Debra Messing, an Advocacy Mission to Tallahassee, a Social Action & Civil Rights Journey Through a Jewish Lens Mission, and a variety of other programs. Most importantly, Women's Philanthropy continued to raise significant funds for the Annual Greater Miami Jewish Federation/UJA Campaign. In fact, more than one-third of the Annual Campaign is generated through women's giving.
Savar told the crowd, "We have made inroads, but we must keep working at it. From our tradition we learn that, 'You are not obliged to complete the work, but neither are you free to desist from it.' This tent we call the Jewish community has room for many more of us."
Upon accepting her role as Women's Philanthropy President, Sara Bejar announced that the theme for the upcoming year would be "We Get More Than What We Give." She shared a personal story that moved the crowd. For her birthday just a few weeks ago, she received a card in the mail indicating that a donation was made in her honor to Scheck Hillel Community School, by her daughter. She realized the personal message on the card really drove home the fact that, "This gift my daughter gave me was really a direct result of my being involved in our community: of having opportunities to be a role model for my kids, to teach my family how to give back, to feel good about giving tzedakah, to understand how to live with Jewish values. This note, while nothing fancy, is priceless. It represents how lucky I am to get back so much more than I give."
As a daughter of a Holocaust survivor, Dr. Knaul gave a powerful speech about the importance of remembering the past, and allowing it to shape the future. She said, "For those of us who bear witness to slaughter, either ourselves or through our parents and families, our burden and our opportunity for freedom emanate from dedicating ourselves to a safer, more humane and more just future."
The 2017-2018 Executive Board includes:
• Sara Bejar, President
• Ilene Kossman, Campaign Chair
• Amanda Adler, Elaine Bachenheimer, Lisa Weiner and Amy Wildstein, Vice Presidents of Area Campaign Development
• Alisa Oppenheim, Vice President of Education & Leadership
• Tammy Woldenberg, Vice President of Outreach & Development
• Michelle Ben-Aviv, Secretary
• Melissa Buckner, Parliamentarian
• Sheree Savar, Immediate Past President/Nominating Committee Chair
• Gisela Ades, Silvia Assor, Olga Blavatnik, Julie Franklin, Lily Furst, Belinda Gilbert, Brenda Nullman, Phyllis Sheinman, Laura Sion and Mindy Solomon, Members-at-Large.
To learn more about Women's Philanthropy and how to get involved, contact Ofi Osin-Cohen at OOsin-cohen@gmjf.org or 786.866.8440.