Lion of Judah Sculpture Lovingly Restored by Mother-Daughter Duo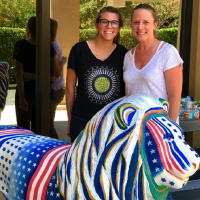 The magnificent Lion of Judah sculpture at the main entrance to Federation's Stanley C. Myers Building has undergone a restoration, thanks to Laurel Susman Schwartz and Jordan Schwartz, a local mother-daughter team who wanted to express their deep appreciation to our organization. Jerusalem Mayor Nir Barkat presented the sculpture during Federation's 2012 Mega Mission to Israel as a symbol of the everlasting bond between the people of Israel and Miami's Jewish community.
For Jordan and Laurel, the restoration of the Lion has been a labor of love, recognizing Federation's direct impact on their family. "My mother, Betty Rosenbach Susman, is a Holocaust survivor," explained Laurel, a fifth-grade teacher at Temple Beth Am Day School, one of 10 Federation-funded Jewish day schools in Miami-Dade County. "She was at the Warsaw Ghetto and then she was taken prisoner by the Russians to Siberia. When the war ended, my mom spent some time in a German displaced persons camp. In 1949, the Federation system was instrumental in facilitating her transfer and relocation to Miami."
Jordan, a senior in the Visual Arts Program of the New World School of the Arts, was equally excited to take part in the project. She will continue her Holocaust education when she joins the 2017 March of the Living, which will be the largest Miami contingent ever to participate in the program.
In recognition of their efforts, the newly restored Lion of Judah will be unveiled on Sunday, April 2, along with a new plaque crediting Jordan and Laurel for the restoration "in honor of the survivors and victims of the Shoah."