Why a Donor Advised Fund May Be the Right Philanthropic Vehicle for You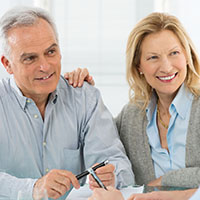 A Donor Advised Fund (DAF) is a charitable giving vehicle that enables you to combine the most favorable tax benefits with the flexibility to support your favorite charities at any time, while simplifying your record-keeping and maintaining your giving privacy.
You can establish a DAF through The Foundation of the Greater Miami Jewish Federation with as little as $5,000. Then at any time, you, your family members or anyone you designate may recommend that distributions be made from the fund to Federation and any other qualified charitable recipient, Jewish or non-Jewish, locally or overseas.





A DAF simplifies your charitable giving and provides numerous other benefits, including:
Flexibility
– You get a charitable tax deduction when you make a contribution to a DAF, and can make decisions about which charities to support at a later date. DAFs accept cash, appreciated securities, bonds, real property (such as real estate and art) and complex assets. Contributions to a Donor Advised Fund also may be made from your Charitable Lead Trust, Charitable Remainder Trust and Private Foundation.
We Do the Work for You – You may recommend grants to any IRS-qualified public charity. Grant recommendations are reviewed by Foundation professionals, who verify that the charity is allowed by law to receive grants from a Donor Advised Fund, that the grant is for charitable purposes, and that all other IRS and institutional guidelines have been met. Upon approval, a check is sent to the charity indicating that the donation was made at your recommendation from your fund (or anonymously), usually with a week.
Ability to Grow Your Charitable Dollars – The assets in your fund grow tax-free, thereby generating more charitable dollars to support the charities you care about.
No Receipts – You no longer need to track receipts from multiple charities. Our secure online system records your donations to the fund, as well as grants from the fund. You receive monthly statements and online access to your fund – including fund balance and contribution history – and can recommend grants at any time from both the principal and interest.
Maximum Tax Deduction – When you make a contribution to a Donor Advised Fund, you are making a charitable donation to a 501(c)(3) tax-exempt public charity. Consequently, you are entitled to receive the maximum tax deduction allowed by law.
Privacy and Confidentiality – A Donor Advised Fund is not required to publicly disclose the grant-making activities of individual donors. Grants also may be made anonymously.
Interested? To learn more and get started, contact your tax advisor or The Foundation at 786.866.8627 or Foundation@gmjf.org.