Diller Teen Fellows Cohort 4 Returns From Israel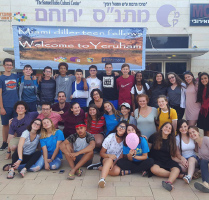 Cohort 4 of the Diller Teen Fellows Program, recently returned from an incredible adventure exploring the many faces of Israel. From Tzfat and Haifa to Jaffa and Jerusalem, the group of 14 teens experienced the country from a number of religious and cultural perspectives. Joshua Balila, a member of the Cohort, said, "During my time in Israel with Diller, I met many people from different cultural and ethnic backgrounds that I was able to form life-long friendships with, and was able to have complex and personal conversations about the different aspects of Judaism, Israel and everything it entails."
The first Shabbat in Israel was an International Shabbaton, when Miami Fellows met Diller teens from all over North America, Buenos Aires, Cape Town, Johannesburg and Melbourne. There were group outings with other cohorts and a variety of Shabbat services on both Friday night and Saturday morning, ranging from traditional services and musical prayer to "God Talk" and services centered around yoga, meditation, nature and more. The International Shabbaton concluded with a walk through the Old City to the Kotel, where the group enjoyed a meaningful Havdalah.
The cohort also spent an entire week in Yerucham, contributing to the people-to-people relationships and bridge-building between Miami and our Israeli partner city. The teens planned every one of their days in Yerucham and spent time studying the history and culture of the Negev city through a variety of activities. They visited a Bedouin tent, met Mayor Michael Bitton, toured the Indian Synagogue of Yerucham and prepared traditional Israeli dishes with the Cooks of Yerucham. The teens also spent time with members of the city's award-winning Robotics Team. They got a glimpse of what local children and teens are learning and how the program is involved with the Robotics Day School Initiative. Prior to Shabbat with their host families in Yerucham, Community Week ended with a Community Service Day, bringing care packages to IDF soldiers and playing games with local children at Potim Atid, a Yerucham youth center.
The last week in Israel was truly special as Diller concluded its program with the Annual Global Congress. For five days, all 32 communities from six continents explored the core values of Diller Teen Fellows: leadership, Jewish identity, tikkun olam (repairing the world), Israel, pluralism and peoplehood. Workshops with groups of teens from various cohorts, experiential leadership training, speakers and more helped make the Global Congress a success. Balila added, "The Diller Teen Fellows Global Congress was the most memorable experience for me. It gave me confidence, decisiveness and leadership experience. Anyone who would like to improve themselves and their ability to lead should attend Congress and allow themselves to experience something innovative and memorable along with many other Diller Fellows."
The Diller Teen Fellows Program is currently seeking 20 extraordinary teens entering 10th or 11th grade for its next cohort. Participants will attend a variety of meaningful and educational events, including Sunday workshops, thought-provoking weekend retreats and an inspiring three-week seminar in Israel. For more information on the Jewish leadership program and to apply, click here. Diller Teen Fellows is operated in Miami by the Center for the Advancement of Jewish Education (CAJE), a subsidiary agency of Federation.