Kulanu Leadership and Educational Program for Teens Launches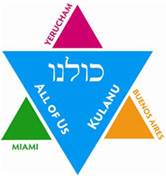 An innovative Jewish leadership and educational program for teens — Kulanu — will be launched in December connecting three cities: Miami, Buenos Aires and Yerucham.
Kulanu, which means "all of us" in Hebrew, is a project of the Michael-Ann Russell Jewish Community Center in North Miami Beach, the Hacoaj Community Center in Buenos Aires, Argentina, and Matnas Yerucham in Miami's Partnership 2000 community of Yerucham, Israel.
This Jewish leadership and educational program is for teens, ages 15–18, who serve for two years as madrichim (group leaders) in their respective JCC's youth programs. It is designed to engage Jewish youth in learning workshops about each community and the development of shared local projects to improve Jewish community life.
The program will begin in December with bi-weekly meetings and will include three components: Israel-Diaspora relationships, the meaning of Jewish identity, and Jewish youth leadership development. In order to begin developing relationships between the madrichim of each community, one of the two sessions each month will include a videoconference.
"On a broader scale, Kulanu is playing a critical role in the development of a cadre of young leaders. They are being trained to not only assume leadership roles today in their home communities, but also to be the Jewish leaders of tomorrow, carrying with them a commitment of Jewish peoplehood and Klal Yisrael (Jewish unity)," notes Alex Zylberglait, Kulanu Miami Chairperson.
Kulanu's Short-Term Objectives
Engaging Jewish teen madrichim from the three communities to develop and enhance connections with one another and create an understanding of Klal Yisrael.
Assisting madrichim to broaden their connection with one another, to their communities, to world Jewry and to the State of Israel.
Strengthening the madrichim, "commitment" to serve as Jewish role models to their chanichim (campers) and to their peers.
Engaging the three communities through JCC professional staff and lay leadership in a program to pursue a more active role of promoting Jewish peoplehood and to use the model established by Kulanu for other communities through a peer-to-peer program.
The success of Kulanu will foster similar projects to be initiated that will connect Jewish teens of Miami with their peers in Latin America and Israel.
For more information about the Kulanu program, contact Dahlia Bendavid, Director of the Israel and Overseas Department of the Greater Miami Jewish Federation, at 786.866.8445 or email IsraelOverseas@JewishMiami.org.