Lion of Judah Celebrating 40th Anniversary with 94 New Miami Lions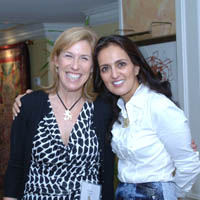 Forty years after its creation in Miami as a society recognizing Jewish women's generosity and commitment to social justice, the Lion of Judah remains a popular and respected institution.
In early June, Women's Philanthropy of the Greater Miami Jewish Federation welcomed the newest Lions who were hosted at the home of Mojdeh Khaghan Danial, Immediate Past President of Women's Philanthropy. Many of these new Lions participated in the recent Miami Mega Mission to Israel and pledged gifts of $5,000 or more to the Annual Federation/UJA Campaign. Together, they committed hundreds of thousands of dollars to help fund vital social-service, humanitarian and educational programs in Miami, in Israel and around the world.
"All of the Mega Mission participants were deeply moved when they saw how the support of Miami's Jewish community affects the lives of people in Israel," said Laura P. Koffsky, President of Women's Philanthropy. "As our Lion of Judah women wore their gold Lion pins with pride throughout the Mega Mission, this sparked many meaningful conversations about the power of women's philanthropy, which ultimately led to more women wanting to be a part of Federation's work. The result was an unprecedented number of 94 new lions which demonstrates that "the Lion of Judah is as relevant today as when it was introduced four decades ago," Koffsky said.
Speaking to the new Lions at Danial's home, Women's Philanthropy Campaign Chair Elise Scheck Bonwitt said, "Those on the Mega Mission were fortunate to see some of what Federation does in Israel," "Here in Miami, we also make sure Jewish life remains vibrant by supporting our day schools, synagogue religious schools, our JCCs, Jewish Community Services and other important Jewish institutions. In partnership with our local agencies, we take care of the hungry, the elderly, the poor and the disenfranchised. We look out for Holocaust survivors, the unemployed, and battered women. Federation also steps in to grant emergency assistance, scholarships and kosher food to families that simply couldn't make it without help."
She continued: "I don't personally have the time or all of the resources to impact many different organizations, so I've chosen to focus my attention on supporting the Greater Miami Jewish Federation. It is the umbrella organization that assesses all of the needs and, as efficiently as possible, allocates funds to so many important causes . I know that Federation will address the needs and concerns that keep me up at night."
Created in 1972 by Norma Kipnis Wilson and Toby Friedland, z"l, the Lion of Judah program attracted the participation of 16 women in its first year. The concept became a phenomenon that was adopted by Jewish Federations around the world. Today, more than 17,000 women worldwide are part of this unique sisterhood.
Preparations are under way for the 2012 International Lion of Judah Conference to be held September 10-12 in New York. Miami women will join their friends from Jewish Federations throughout the Americas and Europe for the event, to celebrate the 40th anniversary of the Lion of Judah. Seminars and workshops will focus on issues for women of diverse ages, interests and social backgrounds. Several of these sessions will be run by Women's Philanthropy leaders of the Greater Miami Jewish Federation.
For more information, contact Ofi Osin-Cohen, Director of Women's Philanthropy, at Women@JewishMiami.org or 786.866.8440.