Help Victims of Hurricane Maria and the Earthquakes in Mexico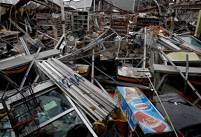 The Greater Miami Jewish Federation is joining our global Jewish community in response to the unfolding catastrophes caused by Hurricane Maria and the earthquakes.
In Mexico, major earthquakes have killed hundreds of people and destroyed buildings. Aftershocks are wreaking more havoc.
In Puerto Rico and across the Caribbean, millions are living through tremendous difficulty following Hurricane Maria's landfall. Communications, water and electrical services have been severely affected. People are waiting desperately for assistance.
Our thoughts and prayers are with all of them and their families.
Federation is partnering with the Jewish and general communities in each of the affected areas to assess the needs of local residents and institutions, and to quickly mobilize emergency relief and recovery resources.
One hundred percent of all contributions will be directed to assist victims of the disaster relief fund(s) you designate.
Donation checks should be mailed to the Greater Miami Jewish Federation, 4200 Biscayne Boulevard, Miami, FL 33137. Please note the amount you would like to donate to each relief fund. For assistance, you may also call 305.576.4000.
Please CLICK HERE to make a donation to the disaster fund relief efforts.